Facebook brought a major update for its Messenger client, which helped expand its reach. Until today the app had only one use – chats between online Facebook friends. Now it no longer requires you to have a Facebook account.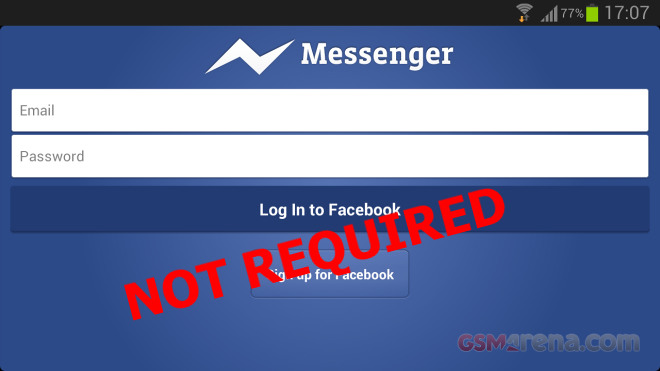 Basically the new Messenger wants a piece from the WhatsApp and the native SMS clients' share. It allows users to send messages to whoever is in their phonebooks and does not require any social log-in.
Of course, if you have a Facebook account and you use it for log-in, you will be able to do Facebook chats as well, but if you don't the Messenger will work as a standalone service, using your phone number as an ID.
As it seems Facebook wants to make its otherwise useless app a universal messenger hub. There are lots of already similar services around, starting the BBM, WhatsApp, Viber, Samsung ChatOn, iMessage, etc. but Facebook thinks it still has a shot no matter how crowded the market is.
Well, whatever happens with the new Messenger, it will be better than what we used to have. Let's face it – no one actually uses this thing. The chat service is available within the native Android and iOS apps, so the Messenger one is pretty much obsolete.
The new capable Messenger app will roll out initially on Android and will become available gradually around the globe. The first countries to get it are Australia, India, Indonesia, South Africa and Venezuela, with the rest of the world to follow shortly after. Facebook claims these countries are of no particular significance, but it's no secret the BBM service is quite popular there.
An iOS compatible app will be launched after the Android premiere is over, but there is no information on when exactly.