Google is currently updating its Maps app on Android devices to version 8.2. Upon release we saw the changelog and it had biking elevation info, voice actions in navigation, better My Places menu but Google didn't say anything about the Explore Nearby page.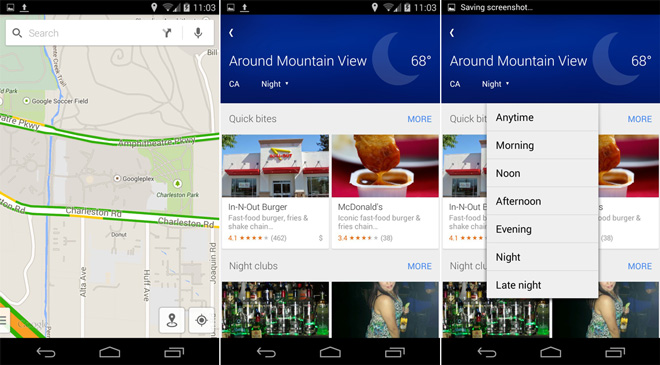 Explore Nearby has been sighted by a couple of users and it manifests via a shortcut right next to the GPS button in the Maps interface. When you select it you're taken to a separate menu that gives you information on where you are, what's the weather and lists points of interests, broken down by the time of day.
At night Explore Nearby will show you suggestions for clubs or Quick Bites. Google is going a little overboard by offering Evening, Night and Late night options. There's a conventional Anytime choice that will just show you everything for the place you are.
Some users haven't yet seen this feature pop up in their Google Maps so it's possible that Google is doing a gradual test roll out. The feature could see a facelift before it hits everyone. It does look good and functional nonetheless.