So many compact cameras are being thrown at us at this year's CES that I'm starting to feel a little dizzy. Panasonic, just like the other major players in this game felt the need to introduce a large bag of digicams that are hard to tell from each other.

The first two new additions to the Lumix lineup are FP5 and FP7, which sport internal zooming. The dirt cheap S1 and S3 couple follows. Then, there is also the no-nonsense FH2 and FH5 and finally, and most excitingly, the FH27 and FH25.
Apparently the megapixel war is back on track as no less than four of the new Panasonic cameras pack a 1/2.33" 16 megapixel sensor, while the other three have an equally big sensors but of "only" 14 megapixel resolution. And it's a tendency to be seen with all other announcements over the past two days.
The Panasonic FH27 and FH25 (those will go in Europe as FS37 and FS35) are basically identical cameras, but for the size of their LCD screens (2.7" for FH25 and 3" for FH30). They can both do 16 megapixel stills and 720p video at 30 fps in Motion JPEG format.
The 8x zoom lenses of the FH27 and FH25 go from 28mm to 224mm in 35mm equivalent and offer a maximum aperture of f/3.3-5.9 through this zoom range.
The Panasonic FH27 will be available in black, red and silver while the FH25 color versions are silver, black, red, blue and violet.
The Panasonic FH5 and FH2 duo (FS18 and FS16 in Europe) differs by the resolution of their sensors – the more expensive FH5 does 16MP stills, while the FH2 only goes as high as 14 MP. The video recording capabilities of those two max out at 720p @ 30 fps (Motion JPEG), while their f/3.1-5.6 lenses go from 28 to 112mm.

Panasonic FH5 will come in black, silver, gold and violet for about $170, while the FH2 will have black, pink, red and blue color versions and will cost $150.
The next two Panasonic announcements are the FP7 and FP5 ultra compacts. The FP7 packs a 16 megapixel 1/2.33" sensor and a 3.5" touchscreen display, while the FP5 settles for the more modest 14 megapixel sensor and 3" touchscreen.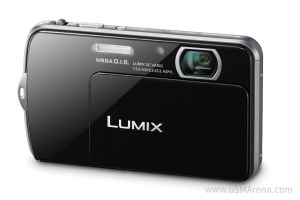 Both card-sized cameras come with internal zoom lenses offering 4x zoom (35-140mm in 35mm equivalent) and maximum aperture of f/3.5-5.9.
We complete our tour with the uninspiring S3 and S1 duo. Those two have a 14 and a 12 megapixel sensor respectively and f/3.1-5.6 lenses that zoom from 28 to 112 mm. You also get a 2.7" LCD screen with either of them so it's not too bad a deal for the asking prices of $120 and $110 dollars.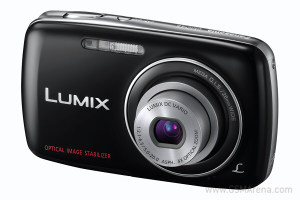 The pricing of the Panasonic FP7, FP5, FH27 and FH25 quartet as well as the availability of all new cameras will be announced 30 days prior to shipping.