Android is at a tipping point – the old 1.5 Cupcake and 1.6 Donut together now account for less than 50% of all Android phones, with version 2.1 Eclair currently holding exactly 50% among available Android smartphones, says Google…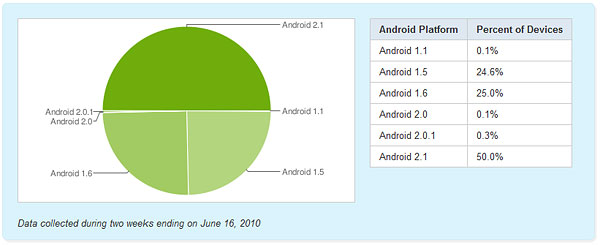 The last tally (held in May) put 2.1 Eclair at 37.2%, not that much more than the 34.1% that the aging 1.5 Cupcake had. Right now, Cupcake and Donut are at about 25% each with 2.1 on the verge of taking over the majority of the Android market.
The latest Android version available is 2.2 Froyo. Its release has been limited for now, especially because it's available only for the Nexus One. So, it doesn't even show up on the chart – and with all the manufacturers still racing to serve Eclair upgrades (for some it's been an arduous journey), it'll be a while before Froyo gets any considerable foothold.
Another interesting chart is the one that shows the distribution of screen sizes and densities.

Low density screens (about 120 DPI) account for just 1.1% of all devices and then only on small screens (up to 3", so that means the likes of the HTC Tattoo and the Sony Ericsson XPERIA X10 mini).
Medium and large density screens are concentrated on "normal" screen sizes – that's 3-3.5" for screens with HVGA (around 160 DPI) resolution and 3.3"-4" screens with WVGA resolution (about 240 DPI).
Large screens (above 4.8") don't register on the charts yet, but maybe the likes of the Dell Streak and the Motorola Droid X will change that. Much like the scary-big Samsung Galaxy Tap P1000 and Galaxy Tape with their 7" screen. They are phones because they have GSM voice calling capabilities, though size-wise they're all tablet.