Echofon is a popular Twitter client that first started life as a Firefox extension but later was made into an iOS, OS X and Windows app. Now, an Android version of the application is being developed as well and to give you a taste on how things are going, the developers have released an alpha version of the app.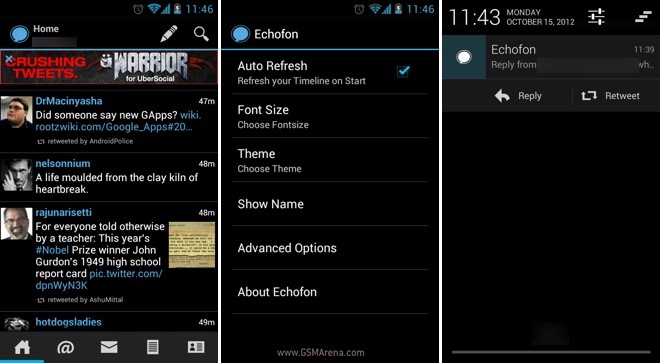 The first thing you'll notice is that on Android, Echofon uses the new Holo theme, which makes it look right at home. You will see the different categories at the bottom and you can tap on them to jump to them directly or swipe horizontally to move between them. Above you'll see the currently selected account name, new tweet button and the search button. The app supports pull to refresh.
The alpha version has all the basic functions, including push notifications. Echofon even shows the latest mention in the notification drawer, along with a reply and retweet button but it only shows a fraction of the tweet, so you don't know what exactly you're replying or retweeting. Hopefully, they add support for expanded notifications for Jelly Bean devices.
The alpha version seemed pretty stable in the short time I tried it, although the scrolling could have been smoother. The alpha version has a big ad on top that cannot be removed. There will most likely be a paid version in future that will let you get rid of it.
You can download the APK by clicking here.