Sony Ericsson caught up with Markus "Notch" Persson and Carl Manneh, the two heads of Mojang, the company responsible for the smash Indy gaming hit Minecraft.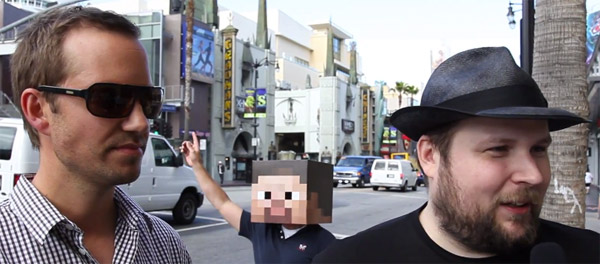 The two developers had brought along a host of Minecraft related goodies to E3 in L.A this year to celebrate the upcoming release of Minecraft Mobile, exclusively on the Sony Ericsson Xperia PLAY. Anyway sit back relax and what follows is a brief interview with the two head honchos plus a little bonus footage of the game itself running in beta (ironically, if you play the game) on an Xperia PLAY.
For those that know Minecraft, interestingly the version that appears to be running on the Xperia PLAY here is an iteration of the freebuild, classic version of the game which is free to play. Whether Mojang intend to weave the survival multiplayer version in as well remains to be seen, but it will sure make a lot of Minecraft addicts happy to see their favorite new Indy title on the shiny new PLAY. Mojang also plan to release Minecraft on the Xbox 360 as well, another exciting announcement from the company, that came out at E3 2011.