Dropbox just released a beta version of its next Android app and is offering lucrative prizes for everyone who takes part in the testing. Dropbox 2.0.9 introduces a cool new feature called camera upload – it lets your phone automatically upload whatever photos and videos you capture to your Dropbox account.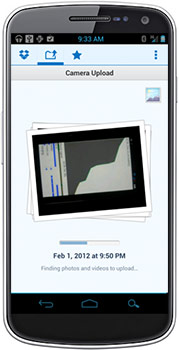 The best part is that you can earn up to 5 GB of extra storage for your Dropbox account just by downloading and using the beta app. All you have to do is set up your account, and enable the camera upload feature.
Once you upload the first photo, you'll get the 500 MB installment into your account. Afterwards, you get another 500 MB bonus for every 500MB of stills or videos which you upload. You can even exceed the 5GB limit that Dropbox normally imposes on the free accounts.
And don't worry – the auto upload doesn't have to lead to high charges on your monthly bill. You can set the uploads to take place only over Wi-Fi networks, so your smartphone doesn't use its 3G connection for this.
Follow this link to get the Dropbox beta, and don't forget to share with the rest of us how it is working for you in the comments section below.
Update: The promotion works for Windows and Mac as well, it's only that, on computers what you would be testing is the auto importing of pictures and videos from your phone or camera. You need to install the beta Dropbox release and make sure it imports your photos and videos when you plug in a camera, a memory card or a phone. Tip: On Windows you need to use the new Dropbox action on your AutoPlay popup when you insert the removable media. Follow this link to get to the beta release.