We are pretty sure someone in the Motorola's US division screwed up big time uploading the DROID 2 Global info on the site before the official announcement. The page was removed almost instantly but most of the information has already escaped in the wild.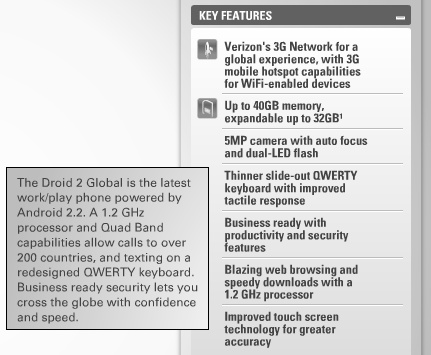 The successor of the Verizon's DROID 2 – DROID 2 Global – is a dual mode CDMA/GSM device with slightly improved specs. It will pack the world's first 1.2GHz mobile processor and will sport a redesigned QWERTY keyboard.
It seems Verizon's latest DROID is going global. Don't get this wrong, DROID 2 Global is still a Verizon-only device, it's just capable of working on GSM networks too.

The revealed specs so far include a 1.2GHz processor, quad-band GSM support, a 5 megapixel camera with dual-LED flash (and most probably HD video recording), 8GB internal memory, all-round connectivity with mobile hotspot capabilities, redesigned thinner slide-out QWERTY keyboard and improved touchscreen technology. I admit, they got my curiosity at "improved touchscreen technology".
That's all we know so far. Unfortunately there are no leaked pictures. I guess the official announcement should take place soon. Did somebody say this Sunday on 10/10/2010?