We have been itching to get our hands on Windows 8 – which is still just a working title, by the way – ever since the first screenshots surfaced. But when Microsoft officially unveiled it to the public yesterday the itch turned into a proverbial rash.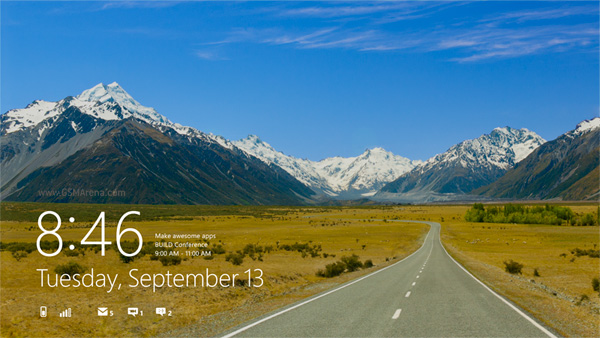 Luckily, we won't have to wait for long to try it out for ourselves because Microsoft has has finally released the Developer Preview on their website for everyone to download.
Now we have three different files here to download. The first is the full blown 64-bit version that comes with the OS as well as developer tools. If you are a developer wanting to get a feel of the Windows 8 SDK then this is the version to download. You will have to perform a clean install with this version.
Click here to download this version. (4.8GB)
The second version is 64-bit just like the first version but comes sans the developer tools. You can retain your accounts files and settings if you choose by opting for this version.
Click here to download this version. (3.6GB)
The third version is identical to the second one but is 32-bit.
Click here to download this version. (2.8GB)
(Note: You may find that download accelerators are unable to download the files. In that case revert back to using the built-in download manager of your web browser.)
In each case the download is an ISO file that you will have to burn on a disc or a bootable thumb drive. You'll need a dual-layer DVD for the developer version, as well as a drive that supports burning and reading them. System requirements for running Windows 8 Developer Preview on your PC are as follows:
1 gigahertz (GHz) or faster 32-bit (x86) or 64-bit (x64) processor
1 gigabyte (GB) RAM (32-bit) or 2 GB RAM (64-bit)
16 GB available hard disk space (32-bit) or 20 GB (64-bit)
DirectX 9 graphics device with WDDM 1.0 or higher driver
Multi-touch display for using the touch-based functions
Do remember this is a beta software. There can and will be bugs and certain apps may not work correctly. Issues are part of testing a beta software and as usual, should you choose to download a beta software you instantly lose the right to complain about the bugs and issues that you may face while using it. DO NOT install it on your primary computer, especially if it's your work PC. Neither Microsoft nor GSMArena can be held responsible for the loss of any personal data or information or damage to your hardware should you choose to install this beta software.
Also, backup your current system before you install the Developer Preview or you may lose all your files. The Developer Preview cannot be uninstalled. You will have to re-install your previous OS and then perform a restore to go back to the way things were.
Now with those scary warnings out of the way, go ahead and give it a try and do let us know how it goes. If you come across any bugs in the software report them to Microsoft as it will help them to improve it further. For more information, click on the source link below.