Dolphin has released a new version of its popular Dolphin Browser HD for Android. The browser, currently in beta state and available only from the official website, uses a new version of the Dolphin Engine, which it claims makes it the highest performing HTML5 browser available today, not just on mobile but on any platform.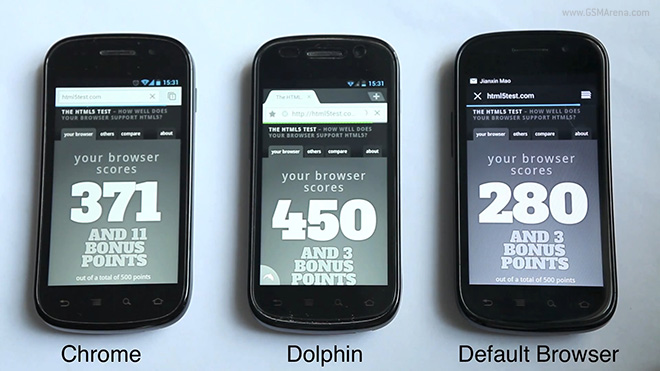 Its main claim to fame is the absurdly high HTML5 test score, where it scores an astounding 450 points (plus 3 bonus points), more than any other browser that is currently available, including those on desktop. Dolphin says it has paid special attention to canvas elements, 2D context and text rendering and that the Dolphin Engine made significant GPU technology improvements around GPU accelerated canvas rendering and optimized CPU / GPU parallel computing.
Due to this, Dolphin claims that the HTML5 rendering speed on their new browser is 5-10 times faster than the standard Android 4.0 browser and up to twice as fast as the new Chrome for Android beta. They even made a video where they run all three browsers on a Nexus S, and you can clearly see the Dolphin browser outperforming the other two.
But HTML5 performance is one thing, real world performance is other. So we decided to run some other benchmarks on all three browsers on the same phone (Nexus S) to see which one comes out on top. The benchmarks we chose were our usual Sunspider and BrowserMark, both of which use tests that are based on things such as java script rendering, which are more vital in every day use.
Here we got some mixed results. Chrome for Android beta managed to outperform both the other browsers in the BrowserMark benchmark. Dolphin browser managed to beat the stock Android 4.0 in Sunspider but failed to do so in BrowserMark. You can see the results yourself below.
BrowserMark
Higher is better
Dolphin Browser HD beta




52057

Chrome for Android beta




66177

Android 4.0 Browser




56685
Sunspider
Lower is better
Dolphin Browser HD beta




3295.7

Chrome for Android beta




3051.6

Android 4.0 Browser




3476.1
Stability-wise, the beta worked well on the Nexus S but crashed profusely on an Xperia U running Gingerbread. That's not surprising, however, as the browser is still in the beta stage.
Overall, we definitely appreciate the massive improvements in HTML5 performance but would like Dolphin to improve the browser in other areas as well before it gets released.
You can download the beta version and try it out for yourself from the link below.