Once upon a time Digg used to be this really popular news aggregator site. But then reddit happened and Digg was pushed to the sidelines. Last year, the site was acquired by a company called Betaworks, who has since been in the process of revamping it, first by launching a brand new website that does not suck and an iOS app to go with it.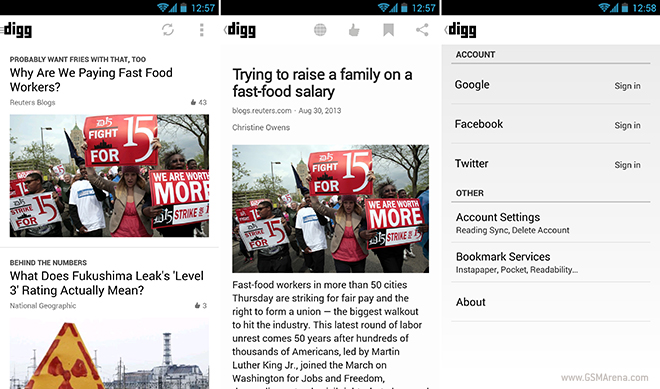 Continuing down that path, they have now launched a new Digg app for Android and thankfully, it's not just a port of the iOS app. The new Digg app, now available for free on the Play Store, follows the same minimalistic design of the website and the iOS app, with clean white and black design. Your stories appear in a vertical column you can scroll through and click on to read. Unlike the web version, the stories open within the app itself and you are not taken to the site that hosts it.
The app presents a wide range of content by default but you can sign in and customize what articles you like to see. You can also connect the app to your Facebook, Twitter and Google+ accounts to share the articles you read. There is also a bookmarking feature for saving articles and a thumbs up option for liking them.
You can download the Digg app for Android from the link below.