CyanogenMod 6.1 came out of beta and is now available as a stable release. One of the most popular custom firmwares for Android phones brings plenty of improvements and features that most droids lack by default…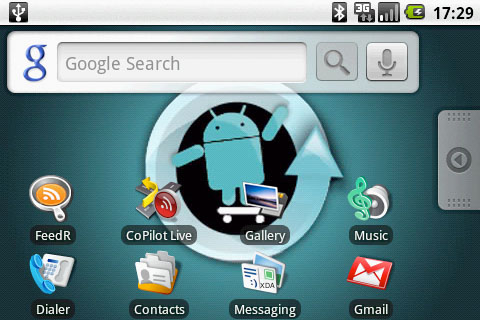 The CyanogenMod site isn't working right now so it might take a while before you can download a ROM for your handset (available from the CyanogenMod forums and ROM Manager). In the mean time, you can read the lengthy change log to see what has been added since v6.0.
Some of the cooler features include touch focus for the camcorder, continuous autofocus for both the still and video cameras, power toggles in the notification area and smart unlock that lets you define patterns that trigger some action rather than just unlocking the phone (e.g. start the camera or dial someone specifically).
FM Radio support has been added to phones that technically have FM receivers but lack the software (obviously the Nexus One, the HTC Droid Incredible, the Desire HD and the Desire Z are among those).
The base OS version has been upgraded to Android 2.2.1 and there are various bug fixes, performance enhancements and updates to the apps packaged with CyanogenMod 6.1.
Finally, a bit of bad news for Samsung Galaxy S owners – the Galaxy S is still no supported (even though hopes were high that this version was supposed to add support for it).
Source (Site might be down)