The video recording of the Samsung i8910 Omnia HD has been a hot topic for debate. Pages have been written about what's wrong with it and how it can be fixed, while some have even acted upon fixing it themselves.
Like HyperX for example, who created his own firmware that records 720p video at 24 fps… but real 24fps this time.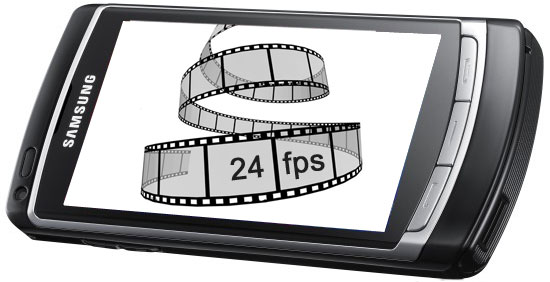 This firmware is of course unofficial, so using it is at your own risk. Samsung are promising an official update that will boost the frame rate and it's coming soon.
If you don't want to wait any longer and are willing to risk it, the HyperX firmware does between 23.7 and 23.9 fps according to Media Player Classic, while the official firmware achieves 22.5 fps at best.
The audio seems to be on par with the official firmware – AAC at 94kbps / 32kHz (though the author of the firmware claims only 16kHz). The original firmware that the Omnia HD came out with achieved good frame rates but used the AMR audio codec and the sound was awful. Then came the firmware that fixed the audio but messed up the frame rate, so the custom ROM seems to combine the best of both worlds.
The HyperX firmware also claims to use the Sony Ericsson Vivaz JPEG encoder, though it seems not all the camera related software libraries could be properly ported to the Samsung Omnia HD.
Anyway, you can snatch the firmware from here. A sample video can be found here. Again, use at your own risk.
Source (Thanks to Nitesh Goyal for the tip!)