Keys. Wallet. Phone. The three items we always check when we leave the house. Our hands are constantly typing away, calling, and texting on our mobile devices and our five-fingered appendages also come into contact with many other things during the day, leaving our cell phones pretty rife with bacteria. To combat legions of germs that accumulate on our handsets, Corning has announced that they are spraying their popular Gorilla Glass with an anti-bacterial coating.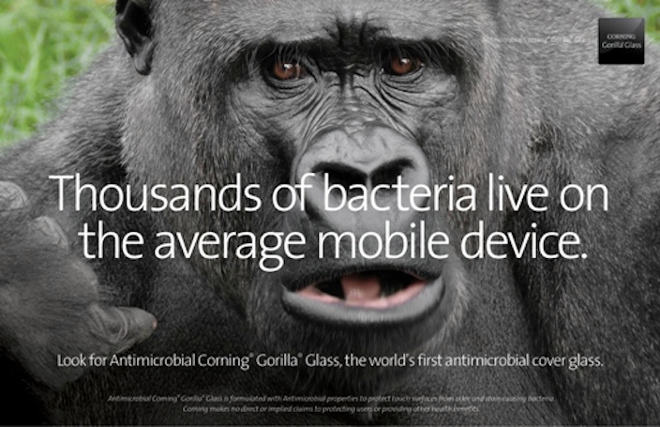 The secret behind the antimicrobial properties of the new generation of glass is called ionic silver.
The ionic silver, a well-known anti-bacterial agent, has been incorporated into the glass surface without a compromise to the glass's structure and other properties.
Corning's general manager and senior vice president, James R. Steiner has this to say about their new germ-fighting product:
"Corning's Antimicrobial Gorilla Glass inhibits the growth of algae, mold, mildew, fungi, and bacteria because of its built-in antimicrobial property, which is intrinsic to the glass and effective for the lifetime of a device."
The Antimicrobial Corning Gorilla Glass can be installed in computers, mobile phones, calculators, telephones, and on various other electronic displays. Corning says that they are ready to start mass producing their glass with the germaphobic coating, so if it gets picked by electronics manufacturers, we should see it on various devices as early as this year.