Opera has released a brand new browser made specifically for the iPad called Coast. Coast reimagines the traditional browser interface and utilizes gestures to make the interaction easier and more attractive.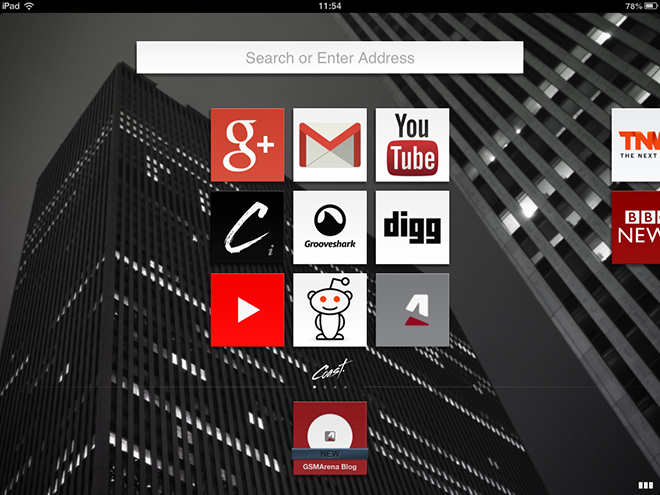 When you launch Coast you will see some sites pinned to the browser's homescreen, along with the URL/search bar, which opens one of the most innovative interfaces I've seen.
As you type, you will see an image of the Google homepage and your enter terms appearing in the search box as if you're typing directly into it. The browser continuously checks the terms you type and provides auto-complete suggestions on top, along with URL completion suggestions. If it thinks you're typing the name of a particular site it will display sites that begin with the letters you have entered next to the Google search page.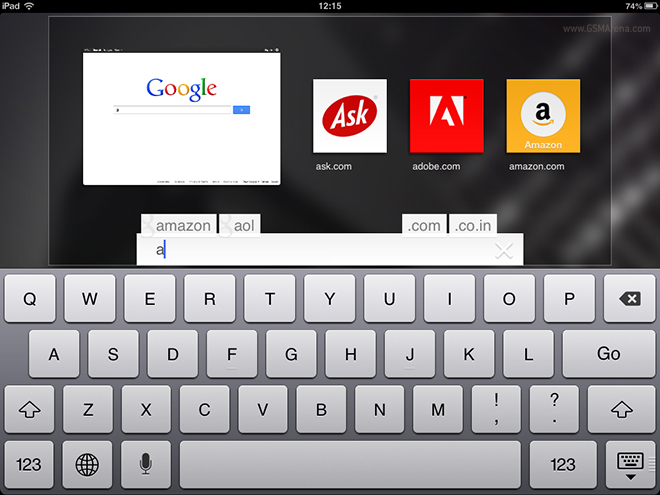 Once you go to a site you will notice a complete lack of traditional browser chrome, such as the address or tab bar and the navigation controls. You have two buttons at the bottom. The one in the middle acts like a Home button that takes you back to the browser's homescreen. The current browser window gets minimized in a tray at the bottom (if it was not one of the pinned sites) or just minimizes into the icon on the homescreen (if it was a pinned site). Tapping it restores the page on the screen.
The button on the bottom right shows all your open browser windows. You can swipe sideways through it. If you want to close a window, just drag it upwards and a gap will open at the top to swallow that window with a nice little animation.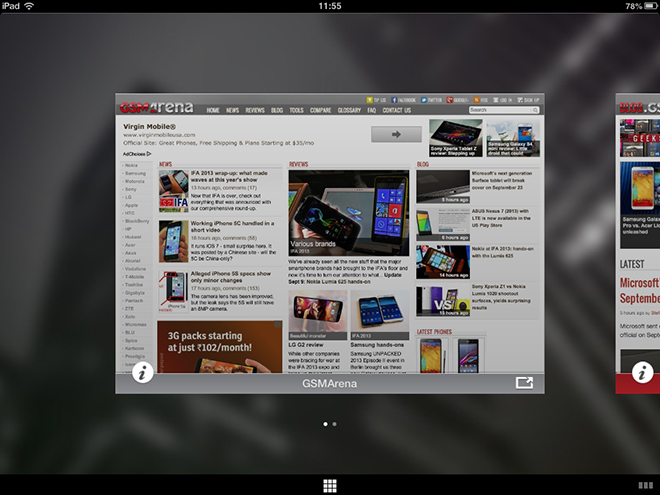 While browsing, you can move back and forth between pages by swiping left and right on the screen. This functionality is similar to the one on the new Safari in iOS 7 but you get to experience it first on Coast.
The sites on the homescreen can be removed by pressing and holding them, at which point they wiggle just like the icons on iOS homescreen. You can then drag them to the top to remove them. To add a site, just tap on it when it's in the tray below and drag it above.
There is no Settings screen as such within the UI of Coast. That has been placed within the main Settings app on iOS. From there you can choose to delete browser data, remember passwords and select the grid size on the homescreen.
In terms of performance Coast was very fast and on par with Chrome for iOS. It uses the same browser engine as Chrome, which is an older version of the Nitro JavaScript engine used by Safari in iOS. This means that just like Chrome, Coast doesn't fare too well in benchmarks compared to Safari, with the SunSpider score being more than three times slower but you don't notice that in actual usage.
Overall, Coast by Opera is quite a unique little browser and is definitely worth a try. You can download it for free from the link below.