Google has released a new version of Chrome (32.0.1700.76) for Windows, OS X and Linux that brings with it some useful new features, such as showing activity of multimedia status on tabs, supervised users and special mode for Windows 8.1.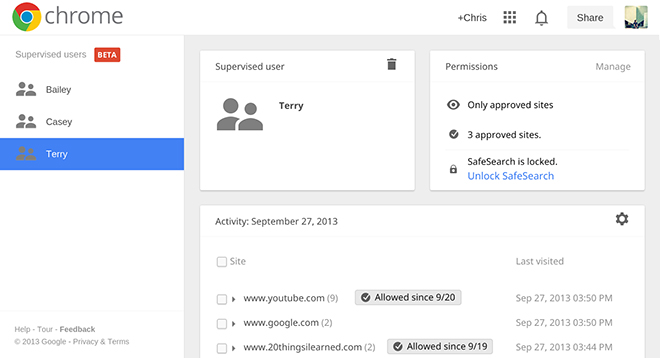 We often have dozens of tabs open on your browser and then one of them starts playing a sound and we have no idea which one is responsible for it. With the latest update, Chrome will now show a speaker icon on any tab that is currently playing a sound, so you know where to go to mute that annoying sound. It will also show a red dot if a tab is using your webcam and a blue rectangle if a tab is casting to your TV connected to a Chromecast.
Another new feature is supervised user, which is currently in beta. With this, you can set restrictions on any Chrome browser for another user, preventing them from accessing certain sites by creating a special supervised user profile for them. These profiles get added to your Google account and then you can access them from any other browser. You can even track the activity of any of your supervised accounts to see what they have been up to on the internet, which is either convenient or creepy, depending upon how you see it.
Chrome now also has a new view for the "Metro" mode in Windows 8.1. This is something that was added in a beta version in the past but is now in the stable release as well. When launched from your Start screen, this mode basically emulates a Chromebook on your Windows PC.
Lastly, Chrome now also checks the files you are downloading and will automatically cancel the download if it detects that the file is malicious in nature.