Chrome for iOS got a major update today that added several useful new feature. The first one is a new widget that sits in your Today view. The widget allows you to open a new Chrome tab or do a Google voice search right from the notification window. And if you happen to copy a URL from some other app, the URL will appear in the widget so one click will open it straight into Chrome.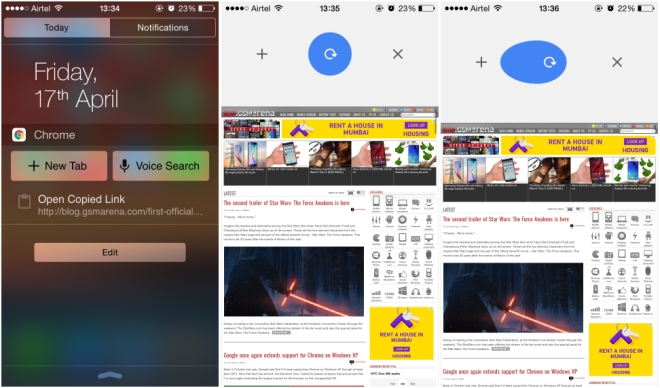 Another addition is pull to refresh, which lets you refresh the web page by pulling down on it, which was first implemented in the Android version of the app. What wasn't in the Android version, however, was that you can pull down and then slide your finger left to quickly open a new tab or right to close the current one, which is displayed with a neat little animation.
Lastly, Chrome also adds support for iOS extensions. You can now have apps like 1Password or LastPass within Chrome, which lets you quickly enter the password from these apps without leaving Chrome, something that was only in Safari until now. Of course, other apps can also add support for extensions in Chrome now.
You can download Chrome for iOS from the link below.