Google has released a new version of the Chrome Beta browser for Android (v35.0.1916.34). Chief among the new features is a handy undo function for closed tabs. If you ever find yourself accidentally closing a tab, you will get an undo button at the bottom of the screen, which will quickly reopen the tab. If you keep pressing it, the app will keep reopening previously closed tabs.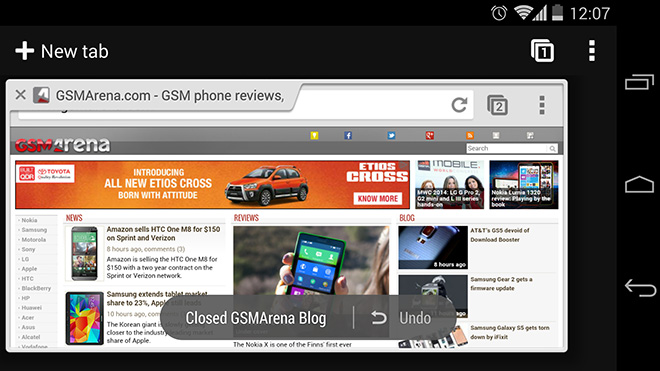 Another change is to fullscreen video playback within the browser. The controls for fullscreen video have now been revamped and instead of the large playback control overlay at the bottom you just get a longer version of the standard controls in fullscreen mode. Although different, this is not exactly better than the previous arrangement. Although it takes up less space on screen, you can no longer just hit the forward/backward buttons to skip a few seconds ahead or back in a video (Google acknowledges this issue in the release notes). Also, the fullscreen mode still lacks support for immersive mode so you always have the navigation controls on screen. You do get support for subtitles now, however.
Google has also added support for multi-window mode for phones that support this, mostly from Samsung and LG. Although the standard version of Chrome does support multi-window mode, the beta version did not until now.
Lastly, Google has added support for casting some videos with Chromecast. Google does mention, however, that YouTube support for casting videos is not complete in the beta version.
You can download the latest version from the link below.