The first direct comparisons of the Tegra 3 found on the ASUS Transformer Prime and the Apple A5X chip found in the new iPad have surfaced.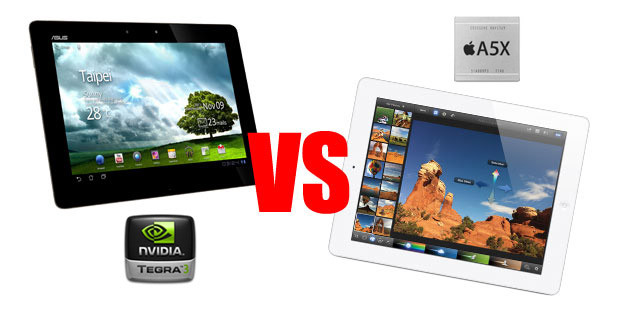 And what better way to test out these robust tablets than with a gaming comparison?
GLBenchmark – 3D graphics test
Before we get to the nitty gritty, lets look at some head-to-head performance in one of the few OpenGL benchmarking platforms available to both Android and iOS, GLBenchmark. It measures different graphics and computation abilities on devices running the OpenGL standard for mobile devices, OpenGL ES 2.x.
In terms of raw fps performance, the two tablets did not vary by much, with the new iPad processing 6718 frames at 60fps, and the Transformer Prime processing 5939 frames at 53fps.
The geometric and fill tests, however, was where the iPad handily outclassed its competitor. The low-level shader geometric test saw 7.5 million frames at 57fps for the new iPad, compared to the 3.5 million at 27 fps from the Transformer. In the program's fill test, which measures texturing speed, the iPad was able to process almost 2 billion textels per second, as opposed to a tad over 400 million textels from the Transformer.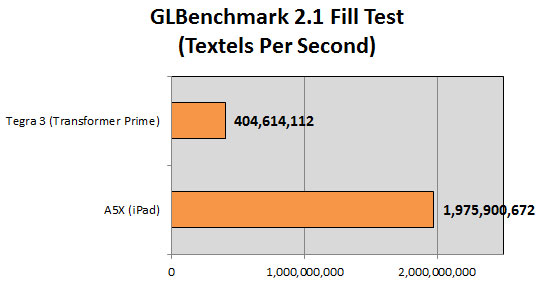 Geekbench – Processor test
The Tegra 3 gained back some of its lost ground in the Geekbench processor and memory benchmarking tool. The Transformer Prime dominated the new iPad with an overall score of 1571 to 692.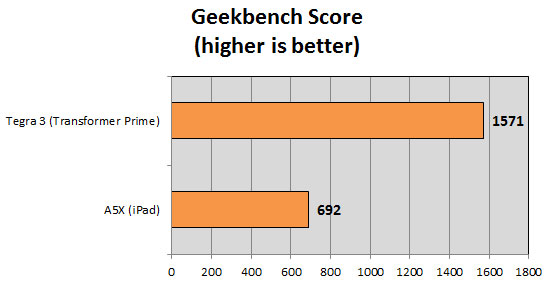 Game comparison
Finally, when taking a look at the cross-platform games available for both devices, we can see some areas where Apple's new tablet really shines, and others where it needs to catch up.
When comparing Shadowgun, you can see some very crisp details thanks to the higher resolution display found on the new iPad, as well as the better color saturation. However, certain effects are not present – the most prevalent being the absence of the billowing red flags on the iPad version.

Shadowgun on the Transformer Prime (left) and the new iPad (right)
We see the same trends across other games as well – sharper detail and richer colors on the iPad; additional eye candy and effects on the Transformer. The latter is most likely due to the fact that developers have had little time to work with the new A5X chipset, and could not include all of the OpenGL effects found on the Tegra 3 version.
Ultimately, we expect the differences we saw to decrease in the future, first with the implementation of better OpenGL effects on later iterations of iOS games, and second, with higher quality displays on newer tablet editions, such as the upcoming 1920 x 1200 resolution Transformer Prime TF700T, or the Acer Iconia A700.