CES awards were flying off the shelves and into the laps of various companies. Samsung, Sony and Nokia were honored with awards in several categories for their mobile and imaging products.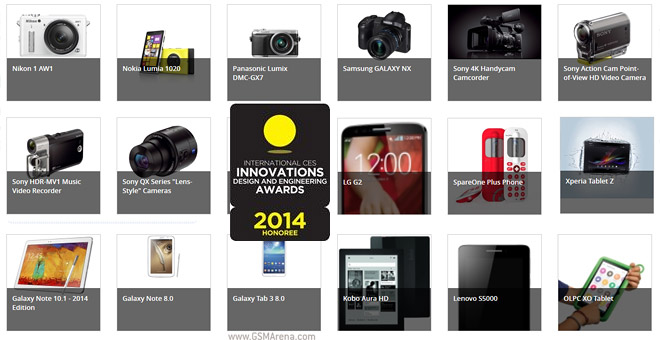 The winners in the Wireless Handsets category were the LG G2 and the SpareOne Plus.
Best Innovation category was won by the Sony's lens-style cameras, the QX10 an QX100, and the Vaio Flip PC. Sony's QX cameras also grabbed a Digital Imaging award.
So did the Nokia Lumia 1020 and the Android-powered Samsung Galaxy NX EVIL camera, along with Sony's Action Cam.
On the tablet front, Samsung grabbed three awards – for the Galaxy Note 10.1 (2014 edition), Galaxy Note 8.0 and the Galaxy Tab 3 8.0. Sony was also recognized for the Xperia Tablet Z and Flip PC, Lenovo for the S5000 and OLPC for the XO Tablet.
Of wearable tech, the Samsung Galaxy Gear got the nod along with a handful of other smartwatches.
The Android-powered game consoles Ouya and the Madcatz M.O.J.O. scored awards.
For embedded tech, Qualcomm went home with an award for the Snapdragon 800 chipsets and Broadcom grad one for the UltraHD chipsets. Intel also scored awards for the Atom Z3000 and the 4th generation Core processors (Haswell). Samsung won an award for its 3GB LPDDR3 RAM for mobile devices.
Various laptops, hybrids also won awards including HP's Elitepad, Envy Recline 23 TouchSmart and Slatebook X2, Lenovo's Flex 20 and Yoga 2 Pro, Acer's Aspire S7 ultrabook and Razer's Blade. Sony's 65″ 4K Bravia and Samsung's Curved OLED TV got an award as well.
There were many more awards handed out, hit the source link to view them all.