The Sony Ericsson XPERIA X10 mini might not enjoy its reign as the tiniest Android phone for very long. Remember Modu, the modular phone that took on various shapes and sizes thanks to a host of exchangeable jackets?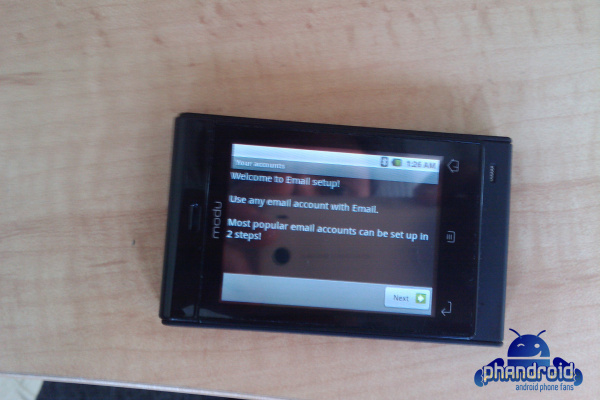 Well, it seems they've been working on an Android phone for the sequel and it looks absolutely tiny next to an iPhone and an HTC Magic…
This phone is potentially the Modu 2 phone we heard about last year. Though it might not be, there's not all that much info about it.
The Modu 2 (or whatever) is a touch phone and runs Android – 1.5 Cupcake or 1.6 Donut by the looks of it. I measured it from the photos and it should be 75.6 x 45.6 mm big with a 2.26 inch screen. For reference, the Sony Ericsson XPERIA X10 mini measures 83 x 50 mm and has a 2.55 inch screen.
The Modu phone apparently doesn't have 3G connectivity, though this could be an issue with the prototype. Anyway, it has Wi-Fi, FM radio, 3.5mm audio jack and a microSD card slot. It also supports a stylus, so chances are it will have a resistive touchscreen.
Check out this video demo to see the Modu phone in action:
Modu has been promising new and more exciting jackets for the Modu 2, like a QWERTY jacket for example. If this is it, adding a QWERTY jacket will certainly make the phone more usable – typing on the X10 mini was quite a challenge, it must be a trial of patience on a 2.26" screen.