Casio are obviously keen to refresh their digital cameras lineup in time for the Christmas shopping spree. The new offering by the Japanese company is called EX-G1 and according to the manufacturer is the slimmest shock-resistant camera in the world.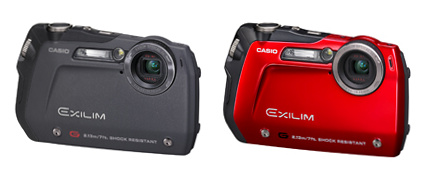 Measuring just under 20mm (19.8 to be exact) at its slimmest part the Casio EX-G1 can withstand a drop of 2.13 meters and is waterproof at up to 3 meters. It is also capable of working in dusty and extremely cold (up to -10°C) environment.
On the imaging side Casio EX-G1 packs a 12 MP 1/2.3″ sensor that can also capture WVGA (848 x 480 pixels) videos at 30fps. The 3x zoom lens goes from 38 to 114mm (in 35mm equivalent) and has maximum aperture values of F/3.9 (at 38mm) to F/5.4 (at 114mm).
The EX-G1 will hit shelves in December in black and red. Taking one with you the next time you go rock climbing will set you back 299.95 US dollars. If you are interested you can preorder yours at Amazon right now.