So you want a OnePlus One, but you don't have or want to shell out the cash to get one for yourself?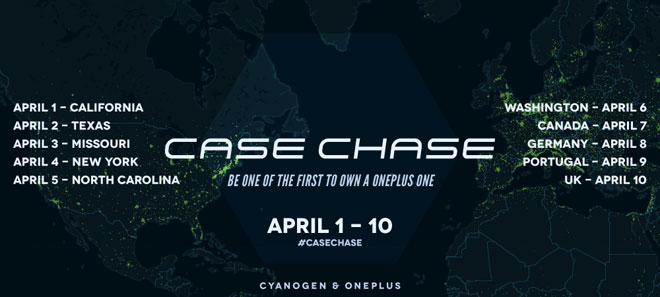 Well you're in luck, because the CyanogenMod team is giving away 10 of these handsets to anyone who participates in their contest. Hit the jump to see the rules and how you can potentially get your hands on a OnePlus One.
Officially called the "Case Chase" campaign, a OnePlus One will be given away 10 days in a row: one handset for each day of the contest. Also, there will only be one device given out per region: California, Missouri, Texas, North Carolina, New York, and Washington round out the US spots. Germany, Portugal, Canada, and the UK will also each have a lucky winner.
So how does one participate in the contest? Well it's a bit more fun than just leaving a comment on a Facebook page or emailing a random address. Participants will need to hunt down a CyanogenMod agent endemic to their area. Players will need to shake the agent's hand and mention the secret password to them (the password hasn't been released by Cyanogen yet). The first one to reach the agent for their respective region and satisfy the requirements will be handed a "mysterious package": which will most probably be related to the OnePlus One smartphone, but not the actual handset. Why? Well there's the pesky little April 23rd release date of the phone that exists, and CyanogenMod will probably not offer the device to participants, before the phone is officially available for purchase.
You can follow the Chase Case from the CyanogenMod team on twitter, which is where the secret passwords and instructions will be posted for every day of the contest.
If you would rather just pay for your OnePlus One or don't have any luck in the competition, then you should be able to buy one for just under $400 when it debuts.