Twitter users on Android have been waiting for this day for a long time now but it's finally here. After being teased for almost a year, the developers of Carbon have finally released the Twitter client on the Play Store.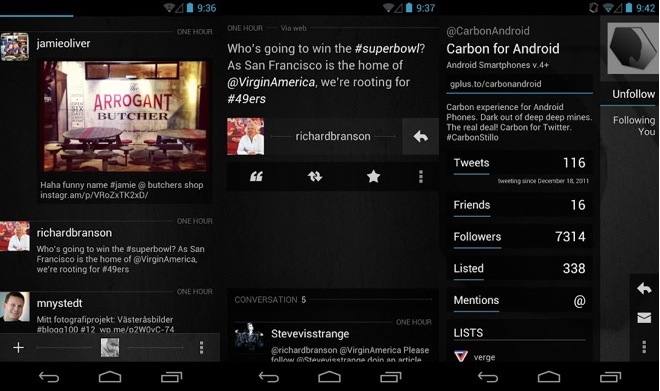 The app was shown off on Twitter last year and then an early alpha was released for a few users. After that the app was delayed indefinitely because the developers could not release it as a paid app on Play Store as it wasn't supported in their region. After that it was announced that the app would be released as a free app but even that got postponed indefinitely.
So now, several months after all that happened and people almost forgot about the app, the developers released it on the Play Store. It's free, just as they promised, and does not contain any kind of advertisements or revenue model within the app.
Some of the features in this v1.1.3 include:
Tilt Timeline to Refresh
Power Scroll: Scroll/Swipe up or down using Two fingers to jump to top or bottom of Timelines
Tap+Hold on Tweets to make everything clickable right on the Timeline
QuickTimeline, home screen quick Timeline for Lists, Searches, Trends, etc…
Rich Timelines with full inline images and videos
Rich and HD style for User Profiles
Rich and fun Conversation View
Threaded Direct Messages
Background updates with quick actions for Jelly Bean, per account
Username Autocomplete
Filters for Hashtags, Users, and Keywords
To download Carbon for Twitter, click on the link below.