Twitter users using Windows Phone 7 devices have been waiting for this one for quite some time now and it has finally released. The Carbon app is now available on the Windows Marketplace and can be purchased for $1.99.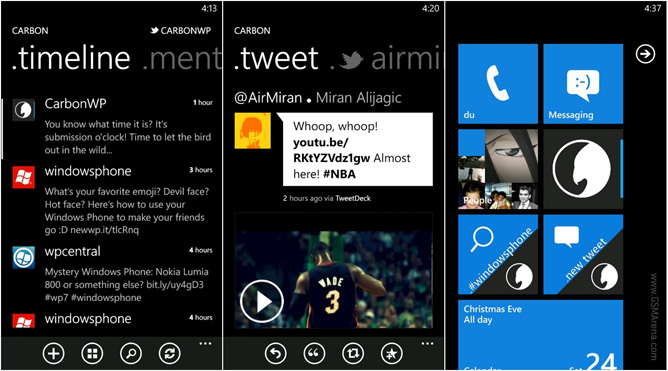 Although it is a bit unusual for a Twitter client to charge money for you to use it, this one promises to be well worth the price. Carbon makes great use of the Metro UI to create a visually brilliant interface. But it's not just a pretty app and comes with all the important features built-in, such as multi-account support, Read Later, image upload, custom URL shortening, threaded direct messages and image & video previews.
Perhaps the best feature of Carbon is the ability to create live tiles on the homescreen for various things, such as for hashtags or to create a new tweet. The live tiles also give you notifications about your mentions and your direct messages. The developers have also promised to update the app with push notifications soon.
All in all, Carbon promises to be the best Twitter app for Windows Phone right now. If you're a heavy Twitter user, you'd do wise to fork out the cash and get the app. To download the app from the Windows Marketplace, click here.
But what if you're an Android user? Don't worry, an Android version of the app is on its way too.