Today Canon released their next-generation mid-range DSLR, the EOS 60D. Positioned right in the middle between the Canon 550D and the high-flying Canon 7D, the 60D packs the same 18MP APS-C CMOS sensor as the two previously announced Canon DSLRs.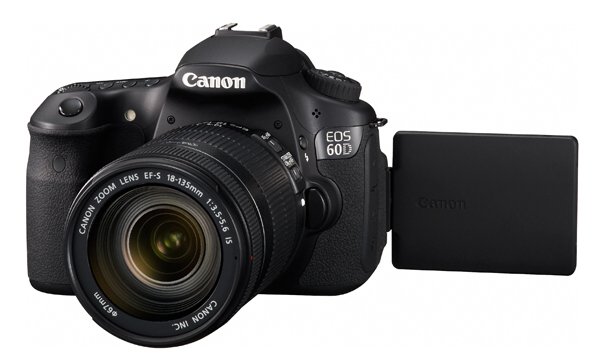 The EOS 60D borrows the 9-point AF system of its predecessor, the 50D, and slaps the ultra high-res 1040k dot 3″ LCD display of the 550D on top, only this time the screen is articulated. The video capabilities on the other hand are identical to the ones of 7D, which is probably the best-equipped DSLR camera in terms of video recording on the market. The memory card standard chosen by Canon this time is SD as opposed to CF in 50D and 7D.
The Canon EOS 60D Digital SLR camera is scheduled for availability in the US toward the end of September, and the body only will cost about 1100 US dollars. The kit version with Canon's EF-S 18-135mm f/3.5-5.6 IS USM will set you back additional 300 bucks.
You can check out a short preview of the 60D with some samples from the camera over at dpreview.com.
Along with the EOS 60D, Canon announced four L-series lenses. Those include the telezoom EF 70-300mm f/4-5.6L IS USM (available in the end of October for an approximate 1500 US dollars), the fisheye EF 8-15mm f/4L USM (January 2011, 1400 US dollars) and the second versions of their EF 300mm f/2.8L IS USM (December, 7000 US dollars) and EF 400mm f/2.8L IS II USM (December, 11000 US dollars) tele lenses.
Finally, Canon updated its 1.4x and 2x teconverters. The Canon Extender EF 1.4x III & Canon Extender EF 2x III are expected to be available in December for about 500 bucks each.
You better start saving now if you want to be among the first to give some of those babies a try.