After seven years since the EOS 20Da came out, Canon has released a successor to its special class of DSLR cameras geared towards capturing the wonders of the night sky in the form of the EOS 60Da.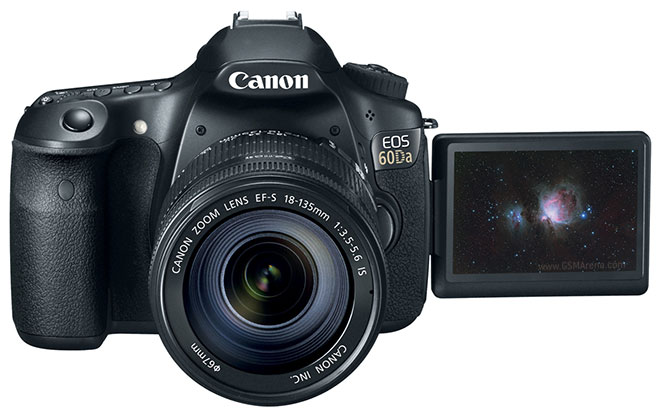 The new EOS 60Da packs a 18 megapixel APS-C CMOS sensor, which is greatly improved over the 8.2 megapixel sensor on the 20Da. It features in improved infrared-blocking filter for better hydrogen-alpha light sensitivity, which is three times greater than its predecessor. The EOS 60Da can capture images in sensitivities as high as ISO 12,800 and has a nine-point auto-focus system.
The EOS 60Da features an improved 1,040k dot, 3.0-inch fully articulated Clear View LCD, a TV out mode that you can use with the provided AVC-DC400ST stereo AV cable for connecting the camera to a TV screen and display the camera output using the Live View mode. There is also a Silent Shooting mode, much like the Mark III, but this one is geared more towards low vibration from the shutter in order to not disturb the camera while capturing images. Considering how small stars can be and that the images will be taken in low light, even a tiny bit of shake, especially with a telescopic lens, can cause a massive blur in the final image. Canon also provides a remote controller adapter and an AC adapter kit with the camera.
In case you are wondering how this camera differs from a regular Canon DSLR camera, the answer lies in the infrared-filter being used. In conventional camera, the IR filter is designed in a way to attenuate certain wavelengths of light so that the final result resembles the way it looks to the human eye. In specialized cameras such as the EOS 60Da and the former 20Da, the IR filter is designed in a way to allow more hydrogen-alpha light to pass through.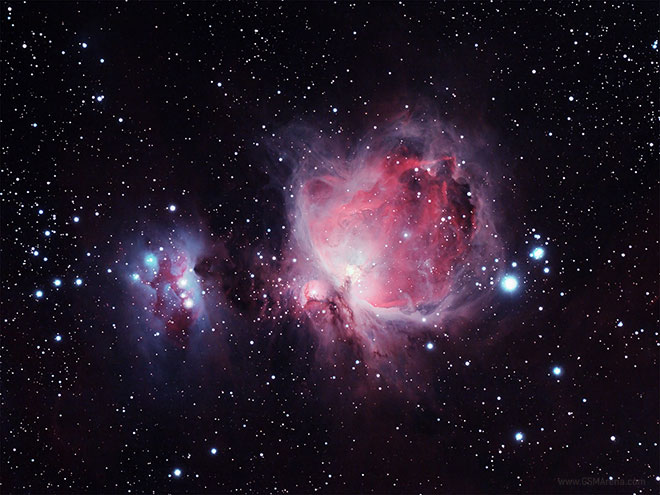 This is necessary because many objects in the space, such as the nebulae, emit light in this spectrum, and are hence invisible to human eye or a traditional camera. With this specialized IR filter, these cameras are able to capture these objects in their true form and then turn it into images, such as the one above of the Orion Nebulae, which can be observed by astronomy enthusiasts. But as traditional cameras are not suitable for shooting objects in space, cameras like EOS 60Da cannot be used for regular photography due to the unnatural color tone they give to the final image.
Because the Canon EOS 60Da is a specialized camera, it will only be sold through select authorized dealers for $1,499 from this month.