Today Canon introduced two exciting new additions to its lineup of cameras – the S100 enthusiast compact and the SX40 HS superzoom. Successor of the extremely popular Canon S95, the S100 aims to deliver image class-leading image quality, while remaining really pocket-friendly, while the SX40 HS impresses with its 35x zoom lens (yeap, you read that right).

Canon PowerShot S100, as goes the full name of the compact, is built around a large 1/1.7″ sensor of 12 megapixel resolution. It also packs ultra-wide (24mm in 35mm equivalent) and ultra-bright (F/2.0) lens, which is capable of zooming in 5 times to 120mm.
The back of the Canon S100 features a 3″ LCD of 461k dots, whereas inside its body you can find the brand-new Canon Digic V image processing chip. Thanks to it, the S100 can do 1080p video recording @ 24fps and 2.3 fps burst shooting (there's also a high-speed burst mode for 8 frames captured in 0.83 of a second).
All those features are traditionally only found on compacts that are nearly as big as an entry-level DSLR, or at least an EVIL camera. Yet, this is not the case with the Canon S100, which measures just 98.9 x 59.9 x 26.7 mm and weighs only 198grams with the battery. Oh, and there's even GPS inside for geo-tagging your images.
The Canon S100 should arrive some time in early November for about $429.
Canon SX40 HS
As for the Canon SX40 HS, it has a smaller 1/2.3″ senor, but with a zoom lens like that this is the only way to make the body manageable. The F/2.7-5.8 lens of the SX40 HS extends from the ultra-wide 24mm all the way to the unbelievable 840mm.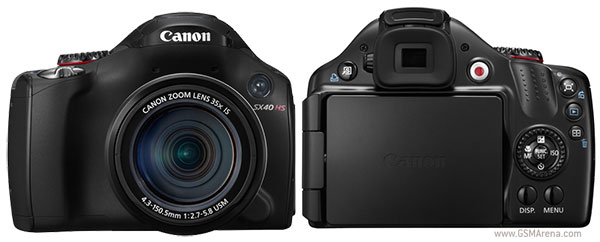 The Canon SX40 HS does 12 megapixel stills and 1080p video recording @ 24 fps. The articulated screen on its back measures 2.7″ in diagonal and has the modest 230k dots. You certainly won't be able to put this 123 x 92 x 108 mm beast weighing 600 grams in your pocket, but that as compact as it gets if you are after this kind of zoom range.
The pricing and availability of the SX40 HS weren't revealed either.