The PC market as defined by analyst firm Canalys – desktop computers, laptops and tablets (devices with 7″+ screens) – is experiencing a major shift. The firm predicts that next year, tablets will make up half of the total PC market. And the PC market is growing (despite the declining shipments of desktops and laptops) thanks to a huge spike in tablet sales.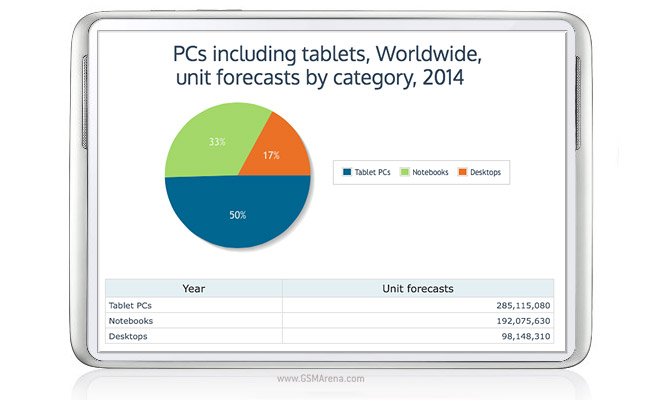 Tablets are almost there already – in the third quarter this year they accounted for 40% of the PC market and the shipments in terms of units was a hair short of the shipment numbers of laptops.
In the near future, tablet shipments will grow from a predicted 285 million in 2014 to 396 million in 2017.
Predictably, it's Apple and Samsung that are the top players in the business. Apple's iOS tablets are on top, but declining. The new iPad Air and iPad mini 2 will strengthen Apple's position in Q4. Apple doesn't care about market share though, Canalys points out that this is due to Apple's high margins and that the company is one of the few making profit off tablets.
Samsung had a 27% cut of the Android tablet market, but the company's position will decline too under pressure from vendors like Acer, Asus, HP, and Lenovo, who are already offering sub-$150 tablets.
Next year, Android tablets will dominate with 65% of the tablet market. Microsoft's tablet offering are on the rise, but still don't pose a challenge to Android and iOS. Microsoft will go from 2% in 2012 to 5% in 2014, according to Canalys. The analysts bring attention to the confusion caused by having three OSes – Windows, Windows RT and Windows Phone.
Microsoft EVP Julie Larson-Green has already stated "We have the phone OS, we have Windows RT, and we have full Windows. We are not going to have three."