If you want to get a Samsung Galaxy S6 or S6 edge but haven't settled on a carrier to sign a contract with, this might help. T-Mobile will give you a one year subscription to Netflix for free if you buy either Galaxy S6 device from it.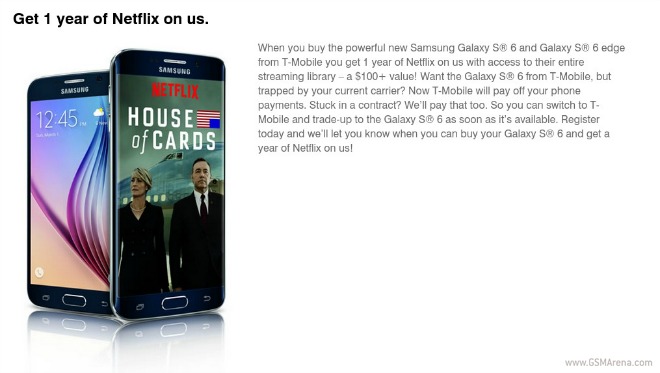 Like the carrier says, this is a value of more than $100, so if you are also a fan of Netflix, it basically means you'll be paying a lot less for the smartphone as you would at other carriers.
It's definitely one of the better deals we've seen so far for a newly outed handset. T-Mobile is currently in the process of taking registrations for the Galaxy S6 and S6 edge. If you register your interest, the magenta carrier will let you know when you can buy either phone, and get the free year of Netflix with it.
As previously reported, the Galaxy S6 should launch in certain markets on April 10. The US could get it on that day, or perhaps on April 11. Before that, expect there to be a pre-order period of a few days or more. The S6 edge may or may not be released at the same time, but in any case do expect stocks of the curved screen model to be pretty thin.