If there's one person you want giving you a gift, one of the richest men in the world would likely be a safe bet. Well, that's what happened to Reddit user NY1227. Yesterday, she posted on the popular online community site that her draw in the Secret Santa contest was none other than Bill Gates. Yes, THAT Bill Gates. And he provided photographic evidence.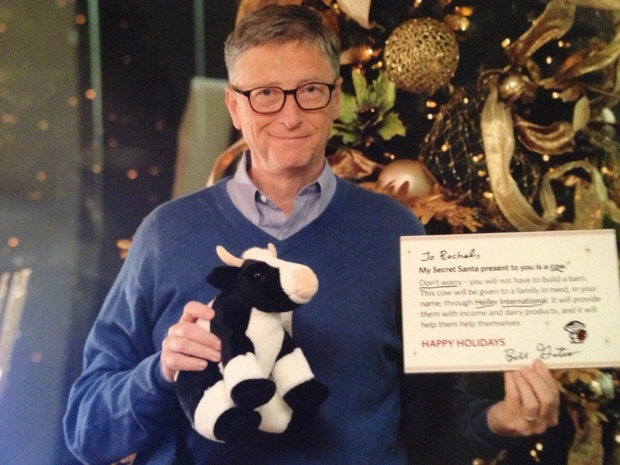 She received a stuffed cow in the mail, a book on traveling, and a card with a certificate. The plush bovine creature is a symbolic gift. Gates made a donation on the user's behalf (another part of her gift) to Heifer International. Heifer is an organization which gives livestock to impoverished people around the world, and teaches them how to properly care for the animals. Not a surprise, considering Gates' history of humanitarianism.
Here's a quote from the lucky recipient below:
…and then it finally hit me. All the presents I just tore open, the charity, then everything– was from Bill GATES. I quickly went back to the book to see a really nice message and note from Bill wishing me a Merry Christmas and a Happy Birthday (not pictured, because I really want to keep one part of this gift to myself) my jaw hit the EVER LOVING FLOOR. I went back to all the other gifts completely shocked. Then I paused for a minute and thought, what if this is someone screwing with me. Well of course Mr. Bill Gates already thought of this and took a picture of himself with my stuffed animal and a sign and then sent me the stuffed animal and sign.
Click the source link below to see NY1227′s full recap of her experience in what has to be one of the greatest Secret Santa stories of all time.