While promises of MeeGo are stealing all the spotlight, Maemo is not forgotten – certainly not by Opera. They've released an update for their Opera Mobile browser bringing it up to speed with the other platforms.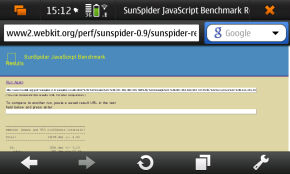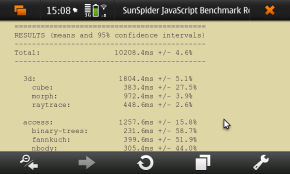 Sun Spider JavaScript benchmark results, possibly from the Nokia N900 (it doesn't say) and its 600MHz CPU
Opera Mobile 10.1 beta for Maemo brings faster JavaScript, geo-location support and power management support, among other things…
Last week, there was an unofficial port of the Opera Mobile 10.1 for Maemo, but this is the real deal. It's not complete yet and has some issues (check the Opera Labs post for more details) but the new version brings some shiny new features to the browser.
The JavaScript engine uses JIT, which is what practically every desktop browser other than IE uses to achieve their blazing speeds (the Android 2.2 Froyo browser too). Opera Mobile 10.1 for Maemo works on the Nokia N800 and N810, as well as the Nokia N900.
Geo-location on mobiles was limited to the iPhones and the Android phones, but Maemo users can get a piece of the action too. Geo-location is used for near-me-now types of searches and other things (if you've heard the phrase "location-based services", this is it, right there in the web browser). You can test how new feature works here or using Google's mobile page.
The power management support sounds good too, though Opera didn't share numbers on how it impacts the battery usage. You can get the Opera Mobile 10.1 beta for Maemo from the Opera Labs page. Don't forget to report any bugs you might find – it will help the developers iron out any issues they've missed for the final version of Opera Mobile 10.1.