Best Buy began accepting pre-orders for LG's latest flagship smartphone – the G4. To sweeten the deal, the retailer is offering a $100 gift card with all purchases of the device.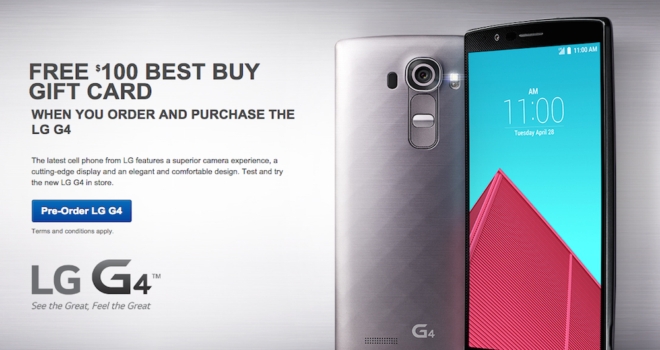 You can pre-order the handset, both with and sans contract on Verizon, AT&T, and Sprint. As for pricing, the Verizon and Sprint models of the G4 are priced at $200 on contract, and $610 and $650 respectively without one.
On the other hand, the AT&T model carries a full retail price of $670. The handset is also available on the company's Next installment plan.
Aside from the pricing, the Best Buy listings also reveal that the smartphone will be available on Verizon on June 4, Sprint on June 5, and AT&T on June 12. It's worth mentioning that the device is expected to land on T-Mobile on June 2.
For those who aren't in the know, LG is giving away a second 3,000 mAh battery and a 32GB microSD card with every purchase of the G4.