There's no arguing the Samsung I8530 Galaxy Beam is a pretty unique smartphone. In short, it's a Galaxy R with a twist – a dual-core Android Gingerbread phone, with a 4.0 WVGA LCD screen and a 5MP camera. What turns heads though is the built-in projector – the Galaxy Beam is a pocketable movie theater or business presentation, depending on your needs.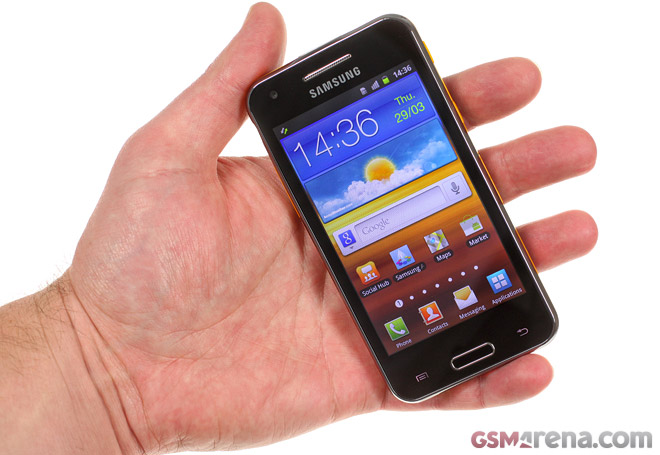 We had some time to play with the Galaxy Beam and, as you could imagine, we dedicated most of it on the projector.
It's easy to turn on with the dedicated hardware key, so you can use it from the Gallery, from the document viewer, from the browser while watching YouTube or any other scenario you can think of.
The resolution of the projector is nHD (640×360), which looks well enough for videos and even presentations (as long as the font size isn't too small, but the rules for a good presentation dictate big, readable text anyway).
Samsung claim that at 2 meters distance, the image is as big as a 50″ TV. The projector isn't very bright, so get good results at that distance you'll need a very dark room. In brighter lighting, you'll need to get closer.
The dedicated Projector app really enhances the capabilities of the Samsung Galaxy Beam for presentations. You can see it in action in the video below:
A white wall works well enough for a projection surface if you don't have a special projection screen. This means all you need is a Galaxy Beam in your pocket and you can share your photos with a large group of people (it's way more comfortable than everyone huddled over a small mobile phone screen), watch a movie or do a presentation in any office you walk into.
The 2,000 mAh battery is rated at 3 hours of projection time, which should be good enough for either of those activities.
The rest of the Galaxy Beam isn't very exciting, but still adds up to a solid mid-range phone. At 12.5mm it's only 3mm thicker than the Galaxy R, which is an impressive achievement considering you're getting a built-in projector, but it does feel a bit chubby for a phone.
The Beam packs a 5MP camera with 720p video recording and an LED flash. But if it's a flashlight you need, don't look to the flash – the built-in app uses the projector instead, which beats LED flashes by a good deal.
We're working on a preview of the Samsung I8530 Galaxy Beam, so stay tuned.