Samsung announced Bada OS version 2.0 at the MWC and detailed the new features. It's a pretty long list, which includes several new technologies and overall enhancements of the OS.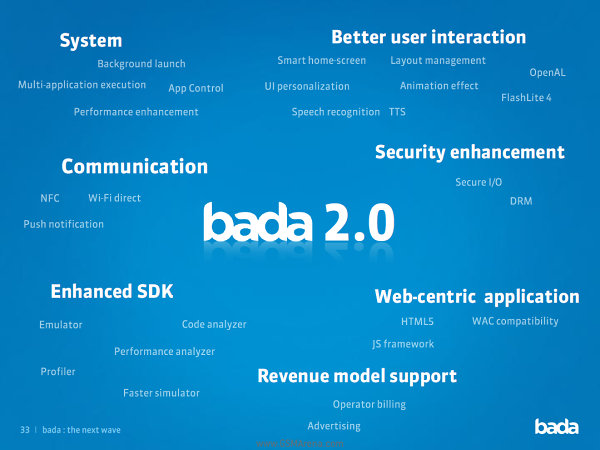 We saw a few slides with new features back in December, but now there's a whole presentation full of new stuff…

Bada OS 2.0 features concurrent multitasking for "specific categories of applications". You can have several apps open in Bada 1.x but the system suspends the background tasks. Anyway, the "specific categories" bit smacks of the iOS flavor of multitasking.
With Bada OS 2.0 third-party app developers have been given more freedom – they can create apps using HTML5 and JavaScript, Flash Lite 4 is supported and can be used to create custom interactive lock screens, apps can also be associated with certain file types (e.g. a video files can open directly in a third-party video player).
Bada OS 2.0 offers three very important new features – push messaging (with deep UI integration), NFC support (like the new Wave 578) and Wi-Fi Direct.
The web browser in Bada 2.0 is now HTML5 ready.
The audio department uses the OpenAL library to support 3D spatial effects and others, plus Bada 2.0 supports Text-to-speech and Speech-to-text.
In 2010 Samsung shipped a total of 5 million Bada devices and Samsung plans to more than double that in the first half of this year. They'll focus on midrange to mass market devices.
Source (PDF)