We got in our office one of the more interesting phones this year, the Asus Zenfone 2. It caused quite a stir all the way back in January, when it was announced at CES, mostly because it was advertised to pack a powerful processor, 4GB of RAM and a 5.5-inch display, all for $200.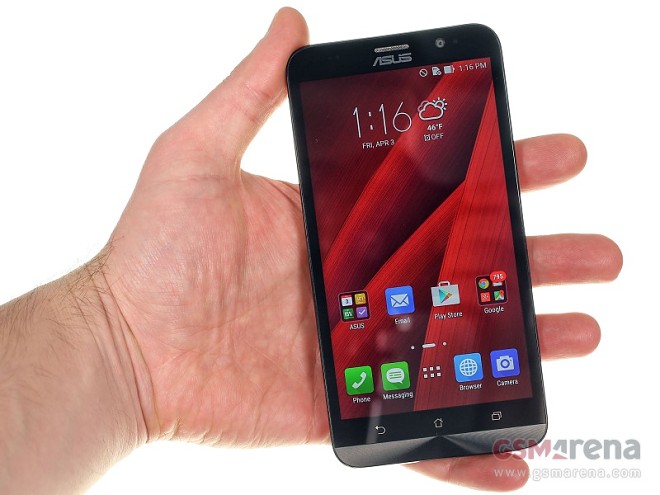 That later turned out not to be the case, and the Zenfone 2 ended up being a range of smartphones, instead of a single device.
The one we have for review is the ZE551ML, which does come with a 5.5-inch 1080p screen, but RAM is 2GB, and the Intel Atom Z3560 inside is a notch below the top model Z3580. That means that the quad-core processor inside has a maximum clock speed of 1.83GHz, instead of the 2.3GHz of its bigger brother.
We've prepped a brief hands-on video for you to get acquainted with the Zenfone 2.
The whole range shares the same design aesthetic and the Zenfone 2 looks premium, thanks to the brushed-metal effect on the otherwise plastic back and the limited physical controls, kept strictly along the device's central axis. The back is removable, allowing access to a pair of SIM slots and separate microSD slot. Battery is non-removable, though.
It's a sizable package measuring 152.5 x 77.2 x 10.9mm, although those 10.9mm drop to less than 4 towards the edges – the back features a pronounced curve. It's not particularly light at 170g, but that's actually a good number for a 5.5-inch phablet.
The Zenfone is equipped with 5.5-inch IPS capacitive touchscreen with 1,080 x 1,920 pixel resolution for a pixel density of ~403, we call that sharp enough. The battery inside packs 3,000mAh of juice and should provide adequate autonomy. When it drains, the supplied charger, which outputs a monstrous 18W (9V/2A), is there to top it up in no time.



Asus Zenfone 2 ZE551ML in our studio
A 13MP main camera is on board for capturing precious memories, and the sensor sits behind a fast f/2.0 lens. A dual-LED dual-tone flash should provide flexibility in tricky lighting conditions. Selfie lovers aren't left out in the cold, and a 5MP front snapper is also on board.
The smartphone runs on Android 5.0, but you'd be forgiven not to recognize it, as Asus as done quite a comprehensive job, customizing the interface. The ZenUI overlay is nice and stylish, with consistent appearance throughout. You get a host of customization options and a whole range of added apps functionality.
The review of the Asus Zenfone 2 ZE551ML is already underway, so stay tuned.