Eager to have a piece of the quad-core Tegra 3 tablet action, are we? In that case you'd be glad to know that you can book your Asus Transformer Prime by pre-ordering it through the company's website right now.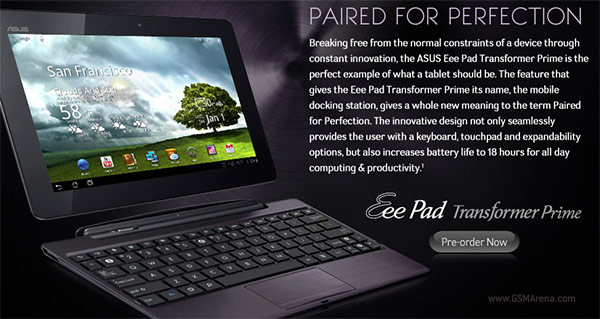 The offer only applies to residents of Canada and US, for now as the pre-orders aren't recorded by Asus themselves, but by some of their sales partners. Prices start at $499, which buys you a 32GB version of the slate.
You can double the internal storage for $100 more, while the optional docking station costs $149.
What we are still missing though is an exact launch date for the slate. It should be somewhere at the beginning of next month, but we guess we'll have to wait another week to find out where exactly.
Now save your place in the Transformer Prime line by following the source link below and placing your pre-order.