Announced during this year's CES, the Asus PadFone X for AT&T finally got its pricing and launch date detailed. The high-end Android KitKat phone and its 9" docking station will be available to purchase tomorrow for $199.99 with a two-year contract, or $22.92 per month with AT&T Next 18 plan.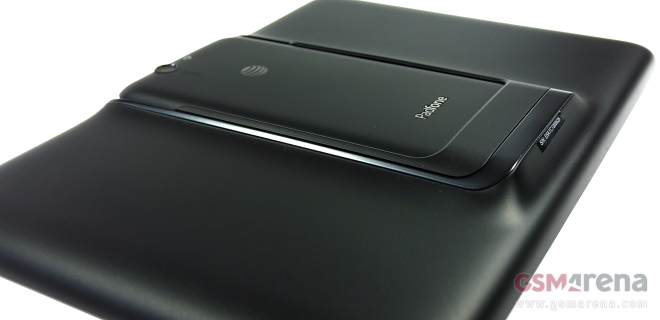 Earlier this week, the gadget got an international version as well – the Asus PadFone S. Just like it, the Asus PadFone X packs a Qualcomm Snapdragon 800 SoC with 2.3 GHz quad-core CPU.
The rest of the hybrid's specs include 2GB of RAM, 5" 1080p Super IPS+ display, 16GB of built-in memory, microSD card slot, and 2,300 mAh battery. The camera is a 13MP unit with single-LED flash and 4K video recording, coupled with 2MP front-facing unit.
The tablet docking station totes a 9" 1980 x 1200 pixel display, stereo speakers, and 4,990 mAh battery. Its functionality is straightforward and it serves its purpose quite well, but, its bezels are huge by today's standards.
Out of the box, the Asus PadFone X boots Android 4.4.2 KitKat. The OS features fairly light custom UI from Asus.
You can check out the PadFone X in our unboxing and hands-on video below.
We have a full review of the device on the way. Stay tuned!