Asphalt 8: Airborne is the latest in the long running series of mobile racing games from Gameloft. The previous game in the series — Asphalt 7: Heat — was a phenomenal game and one of the best racing games available on mobile today.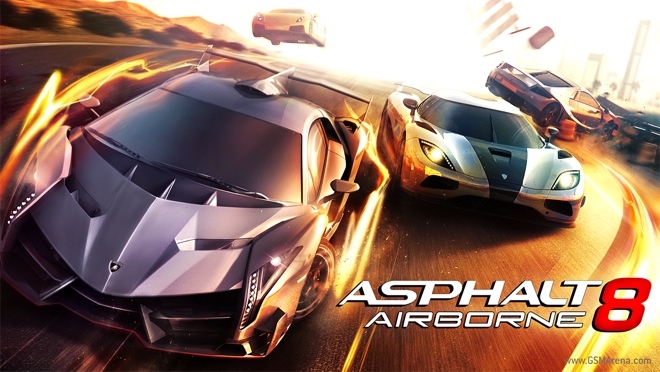 Airborne lets you take to the air, jumping off ramps and performing stunts mid-air with your car. Add to that a new range of cars and tracks, improved graphics and some new gameplay modes and you have all the ingredients for a great sequel. But does all that necessarily make it a great game? Let's find out.
Title

Asphalt 8: Airborne

Developer

Gameloft

Platform

iOS

Android

Release Date


August 22, 2013

August 23, 2013

Content rating


4+

Everyone

Size

884MB

1.53GB

Price

$0.99
Gameplay
Just like its predecessors, Asphalt 8: Airborne is still very much an arcade racer at heart. The biggest addition here is the presence of high-speed aerial stunts. There are two kinds of stunts you can perform: barrel roll and flat spin.
To perform a barrel roll, you have to drive off one of the angled ramps and the car pretty much does everything else on its own. Depending upon how well you drove off the ramp and the height of the jump, the car will perform a single, double or even a triple barrel roll. Most of the time the car finishes the roll before it hits ground and won't start another if it thinks it won't make it but at times you do end up on your roof, which results in a wreck.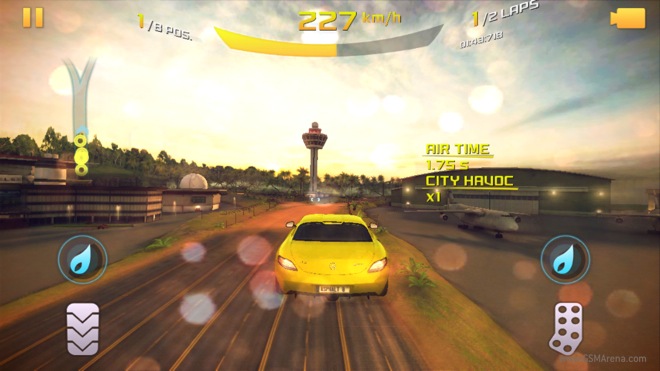 Flat spins take a bit more effort. For these, you have to drive off a flat ramp but while performing a drift, which causes the car to automatically spin mid-air. Again, depending upon the speed and the height, the game decides how many spins the car performs. Even if you fall down facing the other way the car usually spins around and you can drive off just fine without losing too much speed.
The stunts are pretty much the only worthwhile addition to the gameplay in Airborne. The game is split into single player solo races, single player career, online multiplayer and local multiplayer over Wi-Fi.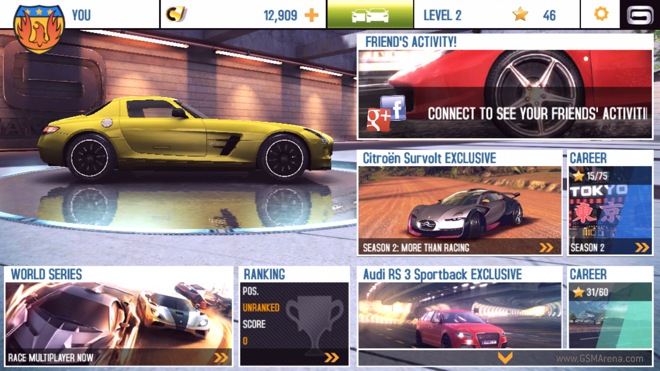 The solo races is where you can choose a car, track and race type and place a single race. Your choice is limited to the cars and tracks unlocked in the career mode.
The career mode is split into eight seasons, with each season having several races. To unlock and progress to the next season, you have to earn a certain amount of stars, which can be obtained by winning individual races.
Each race can give you up to five stars. The first three stars are reserved for your position in the race (three stars for first place, two for second and one for third). The remaining two stars are for special achievements. These involve performing a certain number of barrel rolls or spin turns, hitting perfect nitro, taking down a certain number of opponents, not wrecking your car, staying in air for a certain amount of time, etc. You have two of these for each race for which you get a star each.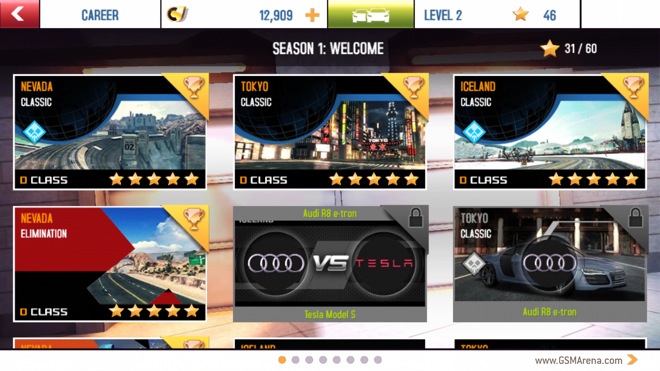 You don't have to get all five stars in a go. You can, for example, just win the race and get three stars and ignore the special achievements. Then you can play the race again and not bother about winning it, aiming only to get the special stars. Your three stars from previously winning the race are saved and carry forward. Even if you lose the race the second time it's fine as long as you get the other two stars. Your total would be five stars for the race.
Winning races and earning stars is not as easy as one might think. For whatever reason, Gameloft has decided to turn up the difficulty from the first season itself. Most racing games, including the previous Asphalt races, let you off easy in the initial races. You'll often find yourself winning with little effort. This is good because you're getting used to a new game and there are other things to worry about than just your opponents. Also, winning earlier games puts you in the mood to continue playing.
Airborne is not that easy. The initial games aren't exactly tough but they aren't easy either. The first season itself has several races that you end up playing again and again just to get enough stars to move on to the next one. The difficulty seems a bit unreasonable and almost as if they don't want you to move on to the next season (not without paying anyway, but more on that later).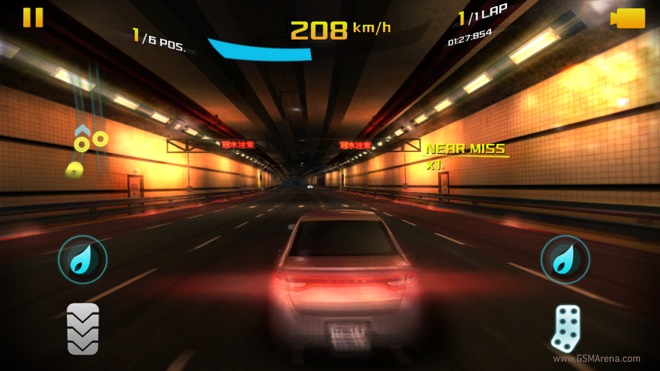 The way you lose is also suspicious. The new tracks are all very nice and have dozens of different routes that you can take. However, unlike previous games, Airborne doesn't mark shortcuts separately. They just appear as different routes. You could pick one and end up circling the globe while your opponents cross the finish line. But at times I felt regardless of which track I chose the opponents always have an upper hand. I could be miles ahead of everyone till I reach one of the junctions. Then I pick one route and by the time I reach the end of the track I had not only lost my pole position but also somehow now at the end of the pack. And this without crashing or any incidents.
The AI cars drive like complete numbskulls most of the time in front of you. But whenever the road splits and they are out of your sight somehow they all turn into perfect drivers and end up miles ahead of you, even if you had the lead on them. Catching up to them then becomes nearly impossible because they are now so far ahead you can't even see them on the map.
This is why I enjoyed the multiplayer more than the single player. The game matches you with up to seven other people with similar ranking and vehicles. Here if you win, it's because you are good and if you lose, it's because you're bad and not because someone gained superhuman driving abilities when you weren't looking. If you're expecting a fair game, the multiplayer is the way to go.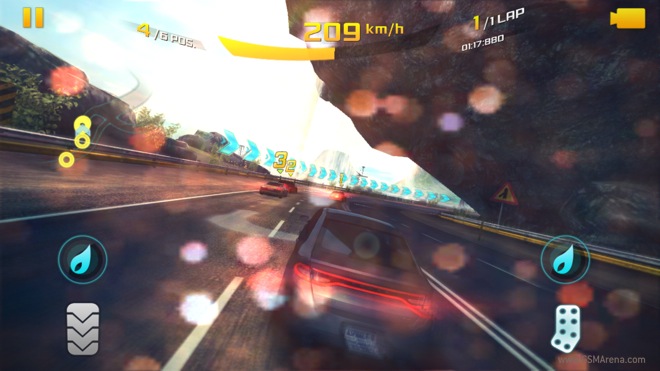 I have minor quibbles with the control. I prefer to play racing games with manual acceleration and braking by having the pedals on the screen. Just like with Asphalt 7, the pedals don't appear on screen until the race actually starts, so you waste half a second trying to find them before hitting the screen. The left nitro button is also too close to the brake button so you often hit one while trying to hit the other.
Just like with previous games, Airborne includes a terrific roster of cars. Too bad you won't ever get to drive most of them. All cars are available for purchase outright but you never, ever seem to have enough money to buy all but the most basic ones. Even after spending hours playing, the balance amount in your account is so hilariously low that you give up all hope of ever driving that Lamborghini or Ferrari you saw in the game's trailer.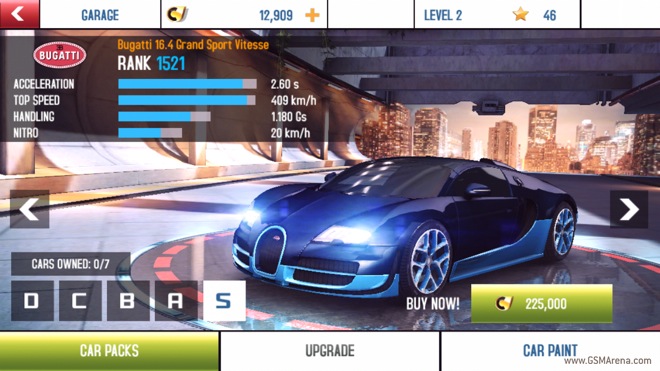 But hey, there is a solution to all of this, and that is in-app purchasing. Yes, the ugly IAPs rear their ugly head once again. Don't have enough stars to progress to the next season? Spend some money and unlock them. Don't have enough in-game cash to purchase cars? Spend real one to buy them. And the IAP are expensive as well. Pack of five pre-selected cars costs $10. Ten cars for $20. Want seven of the best cars in the game? $100. Yeah, you read that right. There are couple of packs with cheaper cars as well for $2 and $5 but those aren't the cars that you'd want. Not by paying additional money, anyway.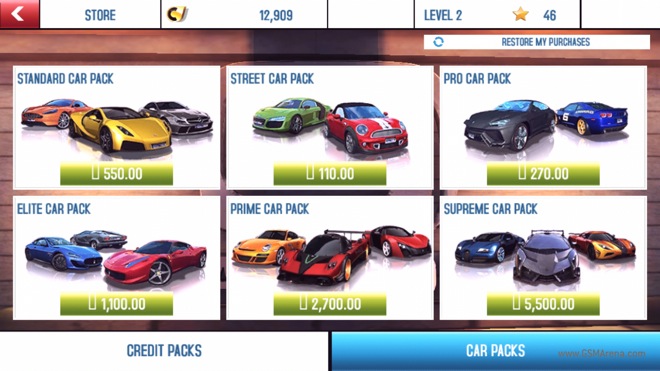 Once you look at that it suddenly dawns on you why the game makes it so difficult to progress to the next season or why you never have enough cash to purchase cars in the game. What's worse is that Airborne isn't actually a free game; you paid a dollar in the beginning to download it.
Graphics and Sound
Last year's Asphalt 7 was a stunning looking game and till date it looks good, especially on high resolution devices. Gameloft has beefed up the visuals on Airborne and although it looks better, it comes at a cost.
The most obvious one is framerate. I played the game on an iPad mini, Galaxy S III (Exynos) and the HTC One. Not a single device managed to run the game at what can be called as a smooth framerate.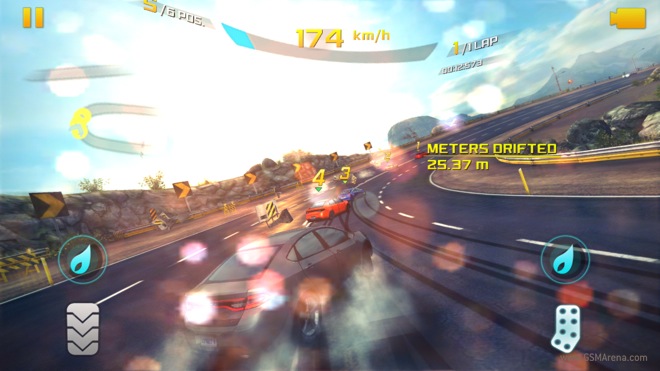 The iPad mini, first of all, was visually crippled. The game disables most of the visual effects that actually make it look good where it now ends up looking similar or at times worse than Asphalt 7. And despite this it doesn't run smoothly. I believe things would be better on the iPhone 5 and the iPad 4, but I haven't tried those personally.
On Android, Airborne offers visual settings, ranging from Very Low, Low, Medium and High. The High mode is what is used in the official screenshots and trailers and has those lens flare effects and motion blur. Even the HTC One with its Snapdragon 600 cannot run the game smoothly at that setting, and it's one of the fastest devices on the market. Putting it on Medium doesn't exactly make it perfectly smooth, either. The situation was same on the S III.
Secondly, it's the way some of the visual effects are implemented. Airborne has those Battlefield 3 style lens flare patterns that appear as dots on the screen. Except there are so many that the moment light hits the screen you have a hard time seeing where you are going, which isn't exactly funny when your car is hurtling towards a corner at 200mph with oncoming traffic.
I also noticed a distinct lack of sense of speed in the game. First of all, the jittery framerate kills any sense of speed the game is capable of delivering. Secondly, the motion blurring around the edges that conveys some sense of speed are only available on the highest visual settings, which kills most Android devices, so that's a waste as well.
The cars don't feel all that fast. Enabling nitro doesn't deliver that kick in the back it did in the previous game. Even drifting feels slow and you can actually hear the car slow down even though the speedo strangely doesn't convey this. The whole things just feels underwhelming, then and lacks the over the top, fast paced feel of the previous game.
I don't have much to complain about the sound. The electronic music is all very good, but that's because I'm fond of that genre. The engines all sound fantastic and much better this time around, except for the electric motors, which sound just as boring and underwhelming as they do in real life. Gameloft has done away with the annoying announcer of the previous games and I can't say I miss her.
Verdict
Asphalt 7 is one of my all time favorite racing games on the mobile platform. In reviewing Asphalt 8, I ended up revisiting 7 and remembered just how much I still enjoy it and had to tear myself away from it to go back to playing 8. This says two things. First, Asphalt 7 is still amazing and second, Asphalt 8 isn't quite.
I won't say I had no fun at all while playing Asphalt 8. The new aerial stunt feature is actually quite fun and not that hard to pull off. The multiplayer is also enjoyable. But the exaggerated difficulty in career mode, cars that are always out of reach, overpriced IAP options and graphics that are one step forward and two step back all take the fun out of what could have otherwise been a solid game.
For just $0.99, it won't be fair to be too critical of this game and I believe the visual issues would be ironed out over time. But Asphalt 8: Airborne fails to fill the rather large shoes of its predecessors when it comes to being fun and that's something, I believe, is permanent.
Rating: 6/10
Pros: New aerial stunt feature is a fun addition, eight player online multiplayer mode is enjoyable, lengthy career (if you have the patience)
Cons: Feels overly difficult for no reason, cars are expensive, IAP are even more expensive, graphical issues