Apple is apparently working on a larger tablet, as indicated by schematics published in Japanese magazine Macfan. These drawings have been the source of artist Martin Hajek's inspiration to create a 3D model of the upcoming device.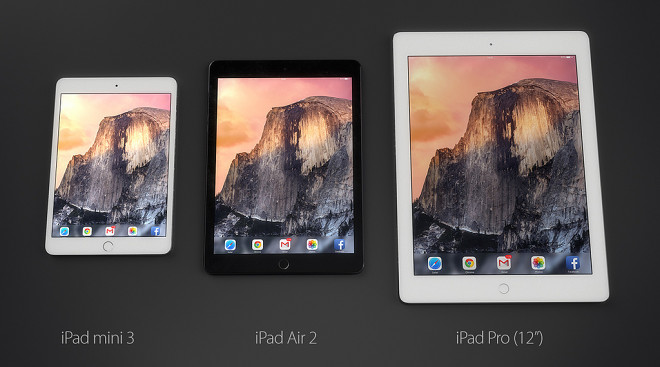 The renderings before our eyes represent an informed guess as to what the iPad Pro might look like. And while the tablet model itself might be based on genuine data, the stylus is purely the artist's interpretation, of course in keeping with Apple's design language.
The detailed dimensions in the schematics and the persistent rumors of a 12.2-inch display have resulted in generous bezels, a requirement for a secure grasp of such a large device. Rendered next to an iPad mini 3 and iPad Air 2 the future larger tablet is simply a scaled up version of those. Which is likely the path the Cupertino giant will take with the design, judging by previous experience.
Rumors have hinted that the iPad Pro will come with a stylus, and we get to see the artist's take on the matter.
His vision is that the pen will be packed with functionality, featuring the iWatch's sensors and crown on top, as well as a capacitive slider, presumably for scrolling and zooming. It's not very slim, though, making it impossible to tuck into the body of the tablet. The crown on top of the stylus governs the diameter, so if Apple do opt for such a solution, they will need to implement some trickery to make sure you don't forget the stylus on the coffee table on your way to work.