"Did you hear the joke about the 128 bit processor?" asked Ian Drew, Chief Marketing Officer and EVP of Business Development at ARM, in a blog post earlier today. This comes as a response to the Korea Herald article claiming that ARM is working on a 128-bit chip for 2015.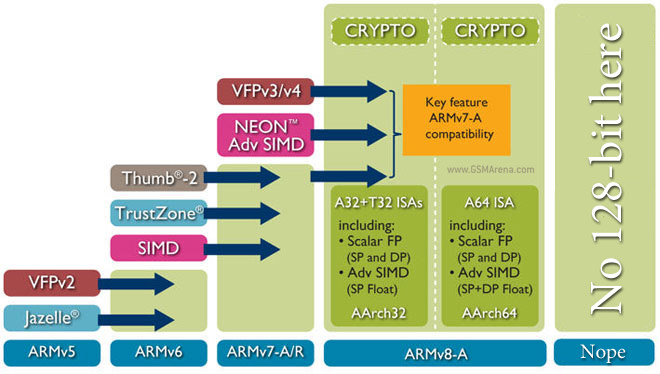 Mr. Drew firmly discounts any reports that 128-bit chips are in the cards or that ARM execs will in any way reveal what ARM's partners are doing.
"News reports have suggested that ARM is developing 128-bit processor technology: this is not true. 64-bit processors are capable of supporting the needs of the computing industry now and for many years to come. There are absolutely no plans underway for 128 bit ARM-based chips because they simply aren't needed. Rumors to the contrary are simply incorrect," says Drew.
He goes on to say that the current 32-bit family of ARM chips will be at the core of 10 billion chips this year. ARM is also launching its new ARMv8-A based 64-bit designs, which will soon hit the market.
Note that there's already an ARMv8 64-bit chip, the Apple A7, that's a custom Apple design. Drew is referring to the Cortex-A53 and Cortex-A57 (those are replacements for the current A7 and A15 and will support big.LITTLE too).