Did you hear about the Samsung Galaxy S5 and how it's rugged? Archos has one of those too – the Quenchua 5″ Phone. Oblivious to its mere IP54 rating however, Archos CEO is quick to dunk it in a glass of water right in front of the camera… with some embarrassing consequences.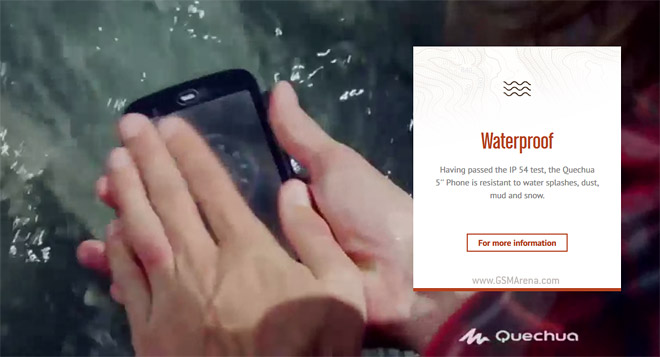 In case you're not familiar with the IP ratings, the second digit indicates water resistance and the digit 4 means the device can resist splashes of water, not submersion.
Even the official site for the Quenchua reads "Please note: this product is not designed for underwater use." (or they changed it after the fact).
Anyway, the CEO was obviously clueless about the fact or overeager to show off in front of the camera and things went south as he proceeded with dipping the smartphone into a jug of water and then filling it with water:
That didn't go nearly as well as putting the Moto G in water (a phone with no official water-resistance rating).
The Archos CEO must be feeling pretty bad right now (and some employee is getting the axe for not giving him the heads-up), but it's possible that the culprit was one of the port flaps opening after the initial fall. This sort of mishap can happen to the best of them:
Anyway, here's a bit more about the phone – the Archos-made Quenchua 4″ Phone has a 5″ WVGA display, Snapdragon S4 8225Q chipset (quad-core 1.2GHz Cortex-A5), 5MP / 720p camera a beefy 3,500mAh battery and a barometer for accurate height readings. It runs Android 4.1 Jelly Bean and has an IP54 rating, meaning it would be good to go in even torrential rain but it's just not fit for skinny dipping.