Apple Watch is powered by the so-called Apple S1 chip, which specs Apple is still keeping under wraps. Indeed the S1 tiny piece turned out quite an achievement packing an amazing set of features into a single tiny 5.2 x 6.2 mm chip.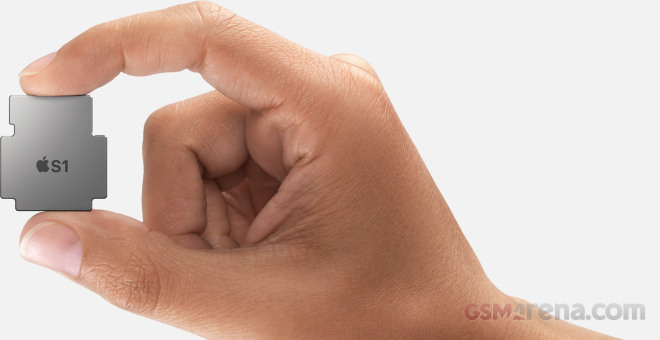 Many are still trying to figure out all the pieces inside the S1 chip, including its ARM processor, and more and more details are coming to light.
Probably the latest major discovery is the S1 manufacturer. As it turns out the S1 chips are manufactured by Samsung on a rather dated 28nm process. Of course, Apple is entirely responsible for the design, while Samsung is doing the manufacturing according to Apple's blueprints. However given that most of the mobile chipsets are currently made on a 20nm process and Samsung even uses a 14nm one for its latest Exynos, one can't help but wonder why Apple didn't do better. The shrinking of the process would have been even more beneficial on a watch where power effeciency is crucial for achieving a passable battery life.
Apple is known for designing its components for years and it always tries to come up with technological breakthroughs. It seems Apple has finally achieved something great as it is closely keeping the S1 specs and details in the dark. Even weeks after the Apple Watch premiere no one still knows its deep secrets.
What is known so far is the S1 chip packs an ARM processor, 512MB RAM, PowerVR SGX543 GPU, Maxim audio controller and amplifier, ADI AD7149 touch controller, Skyworks Wi-Fi, NFC controller and signal booster, among many other components. Check the scheme below: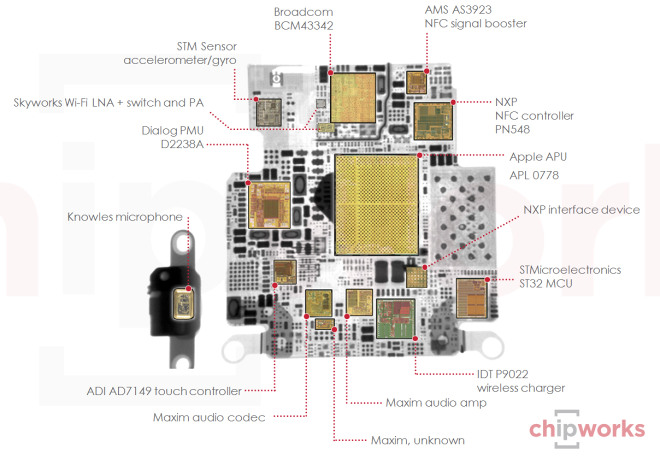 The (presumably) Cortex processor is yet to be revealed though.
The S1 chip is carefully sealed into a single package, but oddly the six-axis sensor is left outside.
The impressive thing here is packing all those components into such tiny single chip. If you want to know more details about the tech behind the Apple Watch hit the source link below. This technological achievement seems a bit crippled by the battery life, so here is hoping Apple do its magic for the successor.