The enormously successful App Store is about to cross another milestone – 50 billion downloads. As usual, Apple will be celebrating the event by giving back to those who made it possible, that is, the users.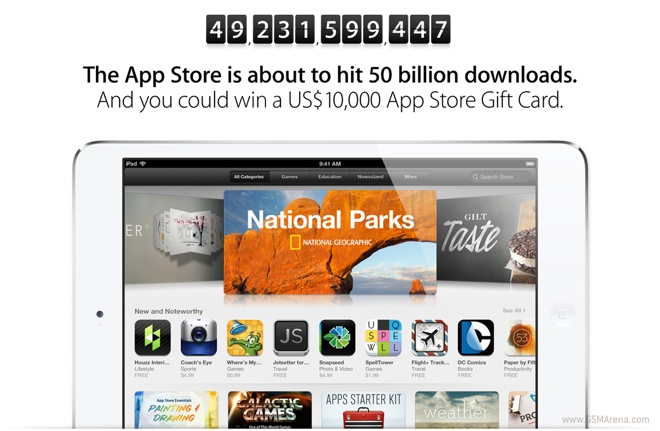 To the person who will be downloading the 50 billionth app, Apple is offering $10,000 App Store Gift Card. But that's not all. This time, the next 50 app downloaders will also be getting something, which in this case is a $500 App Store Gift Card. Although Apple calls these App Store Gift Card, you could use this amount to download other content from Apple as well, such as music, movies, TV shows and books.
Last year, the App Store crossed the 20 billion downloads milestone and the winner was one Chunli Fu of Qingdao, China, who got a $10,000 gift card. As is customary at Apple, the winner also gets a call from the current CEO, which right now is Tim Cook.
There is now a countdown on the site that shows in real-time the apps being downloaded from the App Store. There is still some time before it can hit the 50 billion mark, so you will have to wait to try your luck at being one of the lucky 51 downloaders. Alternatively, you can fill the form on the page and become part of a lucky draw to win a $500 gift card without having to download anything.
You will find the countdown and the form in the link below.