Apple has released the second major update to OS X Mavericks since it was released last year. The 10.9.2 update brings with it some useful new changes, along with a major security fix.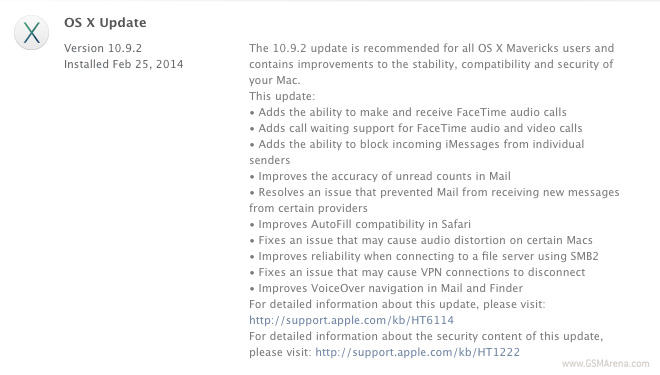 One of the changes in this update is a fix for the SSL/TLS bug that allowed an attacker to access sensitive information on machines on a network. This bug was also present in iOS, which was patched in iOS 7.0.6 and has now been patched in OS X as well.
Other than that, 10.9.2 also brings FaceTime audio, which means you can now make and receive voice calls to an iPhone, iPad, iPod touch and other Macs over Internet connection.
Other than that there's also call waiting for FaceTime audio and video calls, ability to block iMessages from particular users, bug fixes for Mail app, Safari Autofill improvement and a lot more.
If you're running OS X Mavericks, it's highly recommended you download this update immediately.