Those of you who are using iOS 6 developer beta may have noticed the lack of a podcasts section within the iTunes and Music player apps within the OS. The speculations suggested that Apple will soon be releasing a separate app for podcasts. And it has.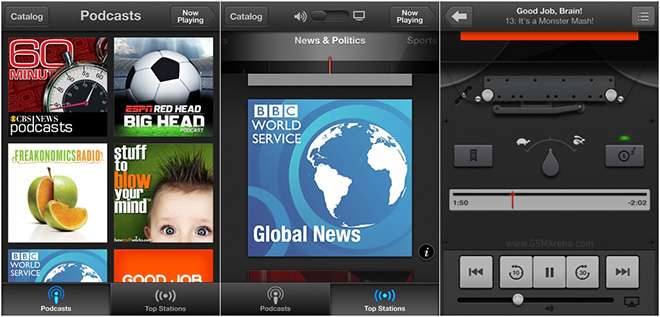 Now available on the App Store is a brand new Podcasts app for iOS devices, including the iPhone, iPad and iPod touch. This app lets you download and playback audio as well as video podcasts and comes with a gorgeous new UI.
Here are some of the features of this new app, according to its description on the App Store.
• Enjoy all of your audio and video podcasts in a single app
• Explore hundreds of thousands of podcasts including shows in over 40 languages
• Try the innovative new Top Stations feature to find new podcast series in a variety of topics, including arts, business, comedy, music, news, sports, and more.
• Browse by Audio or Video podcasts, or see what's most popular in Top Charts
• Tap subscribe for your favorites and automatically receive new episodes for free as they become available
• Stream episodes or download to listen while offline
• Skip forward and back using simple playback controls
• Turn on Sleep Timer to automatically stop playing a podcast while listening in bed
• Share your favorite episodes with friends using Twitter, Messages and Mail
• Optionally sync your favorite episodes from iTunes on your Mac or PC
• Sync your episode playback for seamless transition between devices
The app is available for devices running iOS 5.1 and higher and is compatible with iPhone 3GS, 4, 4S, iPod touch 3rd and 4th generation and all generations of the iPad. Click on the link below to download the app for free.