The smartphone is already so far removed from its phone legacy, packing an infinite number of functions and replacing a multitude of standalone devices. Samsung went ahead and fitted the Galaxy Note 4 within a headset, offering a virtual reality experience with the Gear VR. Sony capitalized on its PlayStation traditions enabling the pairing of a DualShock controller to some of its Xperia smartphones.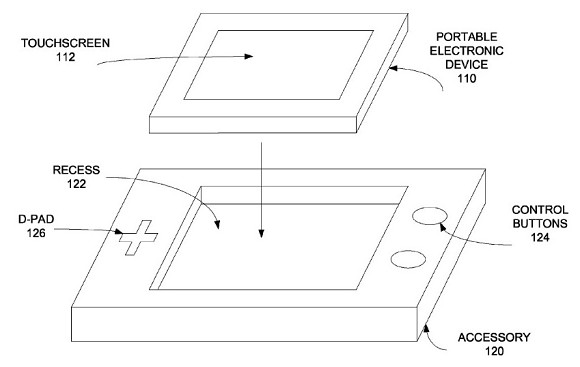 Apple is also set on exploiting the mobile gaming niche, it appears, as recent findings show that the Cupertino company has been granted patents for a number of controller-type holders, presumably for the iPhone.
The most widespread smartphone on the US market is already a very popular gaming platform. Freeing the display from its control functions, however will unleash even more possibilities for on-the-go gaming.
Apple doesn't seem to have decided specifically what controller to market, instead patenting several different styles. There's a landscape version in line with Sony's PS Vita and Nintendo Wii U and also a portrait option, much like the original GameBoy. Either one comes with a D-pad and a couple of control buttons.





Portrait and landscape variants of the controller
A third option adds a large speaker and a microphone on top of what's supposedly the iPhone cradle. The landscape unit on the other hand gets treated to a hinged second screen option. Then there's another portrait variant, altogether ditching the buttons for a keyboard/touchpad.
Apple seem to be more certain on the mode of attachment of the "portable electronic device" to the controllers, with a detailed rotating action.
Additionally, wireless connection between multiple such rigs will be possible, as well as a feed to a separate monitor and audio system.