We're still several days away from the September 20 iPhone 5s/5c global release date, but dedicated customers are already out camping in front of some stores such as the Tokyo Ginza Apple, where looming typhoon warnings cleared the streets. In turns out, in Japan not even extremely bad weather can scare away the people willing to be among the first to buy one of the new iPhones.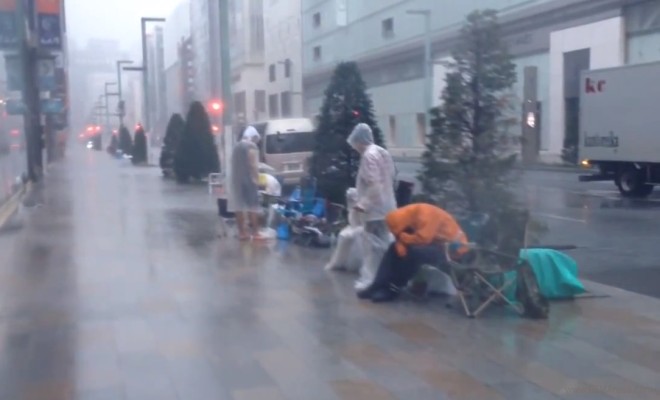 fortunately for these dedicated would-be iPhone owners, the Apple staff was kind enough to open their doors early and bring the customers inside until the threat had passed.
One of the eager Apple enthusiasts recorded his experience, showing how Apple staff opened their doors and accommodated them shortly before the hurricane hit. Check it out below (Japanese):
It's good to see such courtesy to the customers and kudos to the shop's staff. It's just the right thing to do no matter whether you work for Apple or not.
The new iPhone 5s flagship and iPhone 5c plastic models are set to hit retail stores in first-wave countries on September 20, including the US, Australia, Canada, China, France, Germany, Japan, Singapore and the UK.