As we were cruising through the MWC 2013 grounds a particularly interesting piece of Android software caught our eye. Developed by the relatively unknown Japanese company Morpho, the MovieSolid video stabilization doesn't require any special hardware to work, yet yields impressive results.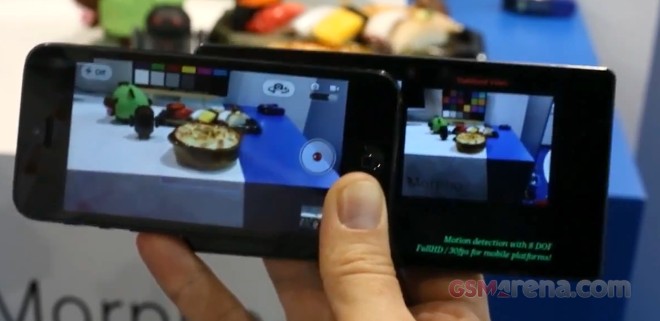 Using only the data from the camera sensor and the smartphone's gyro sensor (if available), the MovieSolid solution manages to turn an otherwise shaky video into something that looks as if shot with a steadicam. We tested the software against the Apple iPhone 5, which we have found to have the best digital stabilization in the smartphone game so far and we were really stunned by the result.
For starters here's a short video prepared by Morpho itself, which shows the effect of MovieSolid.
But of course, we know better than blindly trusting a developer's word about its product, so we needed to see for ourselves how good the actual product is. So we gave it a spin ourselves and here's what we found.
The best part about MovieSolid solid is that it is also highly customizable. This means you get to pick how strong the stabilization effect is. Since the software needs to crop a part of your image to work, you will be better off with the lower settings in cases when you are not shaking your phone too vigorously. And as you can see from the demo below, even the lowest setting still does a better job than the iPhone 5 native camera app.
The video consists of two parts – the first testing the iPhone 5 against MovieSolid at its strongest stabilization setting, and the second (starting from 0:37) pinning the Apple flagship against the software set to lowest. See the actual results for yourselves below.
It seem then, the only question is when will you be able to use the impressive MovieSolid software on your own smartphone. The thing is, though, Morpho doesn't plan on selling it as a standalone app, but wants to work with OEMs on integrating it into smartphones' native camera apps. Negotiations are in their final stages, but it will still take at least a few months before we see an actual product offering the enhancements.