We are already done with testing the second smartphone to go through our new battery life test. The Apple iPhone 4S did slightly better than the Nokia N9 becoming the new device to beat.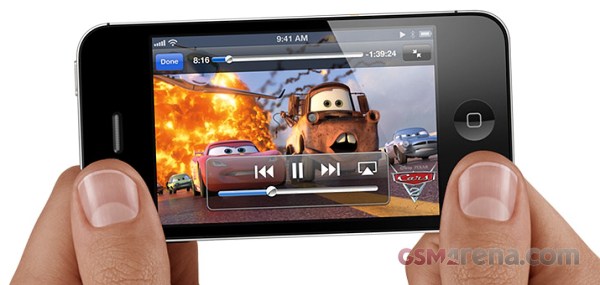 As the blog regulars among you know, the new test involves three individual challenges (video playback, web browsing and voice calls) and a combined, general usage test.
The iPhone 4S turned out to be slightly more efficient than the Nokia N9 when in a call. We found the iOS flagship capable of enduring up to 7 hours and 41 minutes of talking over a 3G network on a single charge. That's nearly an hour more than the Nokia N9 result.
The iPhone 4S also did pretty well in the web browsing challenge. A fully charged iPhone 4S went through 6 hours and 56 minutes of browsing before it eventually switched off. To put things into perspective, the Nokia N9 only managed 4 hours and 33 minutes on this test.
The latest Apple smartphone made it three out of three in the third trial, which was video playback. The iPhone 4S managed the 9 hours and 24 minutes of non-stop video playback before its battery reached 10% (according to the rules of this test, it stops at 10% instead of 0%). The winning margin is smaller here though with the Nokia N9, achieving 8 hours and 40 minutes.
In fact, if you play Xvid video on the iPhone through one of the third party players instead of converting it to its native format via iTunes, it scores slightly lower than the Nokia N9. The 4S achieved 7 hours and 19 minutes in that scenario.
Finally, we come to the most important aspect of our new battery test. The battery endurance rating of each smartphone shows how often you would need to charge it, if you used it for 1 hour of talk time, 1 hour of video playback and 1 hour of web browsing every day.
With that kind of usage, the iPhone 4S would need to be connected to a charger every 45 hours (that's the score with native video playback). The iOS smartphone stand-by turned out slightly less effective than that of the Nokia N9, but the iPhone 4S consumes much less battery juice doing the tasks included in the test, so the result is no surprise.
You should keep in mind though that we conducted the iPhone 4S test with location services switched off. As you know, there's an issue with those that causes battery drain with some units (that issue should be fixed in iOS 5.0.1), so we turned them off just to be on the safe side.